The Dark and Scary Side – of SNEEZING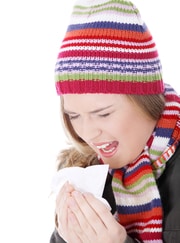 Sneezing. We all do it. It seems so simple. You get an itch in your nose, a tickle in your head and then: HAH-CHEW! You don't decide to sneeze. It just happens. A sneeze can be funny, but it can also be dangerous. In fact, sneezing has a dark and frightening history.
People have sneezed since the beginning of time. And all over the world people have responded to a sneeze by wishing the sneezer good health.
In ancient Rome people would say "Jupiter preserve you." Ancient Greeks would say "good health to you." Even though these people didn't know about germs, they knew that sneezing was a bad sign.
Some thought that the soul left the body when a person sneezed. Wishing good health helped keep the devil away from that soul. Other people thought that sneezing was how a person got rid of a demon. A blessing was to help keep the devil from re-entering the person's body.
The phrase, "God bless you" is believed to come from Pope Gregory The Great during the sixth century. This was when a deadly bubonic plague ran wild through Europe. The blessing was uttered after a sneeze in the hope of preventing the spread of the illness. Of course, it didn't.
Probably the most familiar response to sneezing is: gesundheit. This is a German word that means "health." In Punjabi, people say "Glorious Lord." Latvians say, "To your health." Albanians simply say, "Health." While some cultures have different ways to answer the blessing, the usual thing to say back is: "Thank you."
Sneezing is also thought to have inspired a famous old children's rhythm: Ring around the Rosie. In the 1800s, people thought that the poem was a playful description of the plague. The words, "A-shew-A-shew we all fall down" was thought to describe sneezing then getting sick and falling.
While there are scary things that really happen in the world, history experts don't think that the nursery rhythm was written because of the plague.  Still, people still believe the story.
Of course, now we know that sneezing is one way our bodies get rid of germs. Years ago, people were told to sneeze into handkerchiefs. This wasn't a good idea, because the germs still lived in the cloth.
Now people are told to use tissues then throw the tissues away and wash their hands. If you sneeze and do not have a tissue, doctors say that you should to sneeze into the elbow of your sleeve.
We know that sneezing isn't caused by demons, but we do know that germs are dangerous. You can still say "God bless you," but to be safe, use a tissue and wash your hands.
Here are some other interesting articles written just for kids: