Smart Speakers for Kids and Parents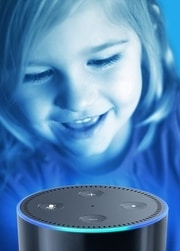 Smart hubs. Smart speakers. Smart Assistants. Alexa, Siri, Google Home… These home automation gadgets go by many names, but together they have one major thing in common — they provide a service that is growing in demand and quality by the day. But parents may start to question the impact it might have on their kids.
Are smart speakers safe for kids to use freely? What are your options for controlling what your little ones see and hear? Can these actually be used in a way that will benefit both you and your child?
Luckily, developers are hearing these concerns and taking action. Busy moms and dads including single parents today find that smart hubs are becoming a useful and fun part of their everyday lives.
So,if you're considering buying one for your own home, here are some tips to help get you started in your search for the best fit for you and your family.
What are your options?
The three main smart speakers on the market today are provided by Amazon (aka The Echo, or Alexa), Google (Google Home), and Apple (otherwise known as the HomePod, which is powered by Siri).
Finding the best smart speaker for your family can mean many different things, depending on your budget and lifestyle. But for the sake of brevity, let's go over the two most important factors for parents — features and compatibility.
Kid-friendly features, safe search settings, and parental controls
You might want to consider Googling each of the phrases above while you're doing your research, as each device has so many different offerings.
Google Home, for example, has the Family Link app which allows you to create different profiles for each of your family members, which are identified by the sound of their voice. From there, you can adjust and personalize their settings, including what apps they access, when and how often they can access them, and even activate Google SafeSearch to ensure they are hearing only age-appropriate language and information — much like parental controls on the computer.
The Amazon Echo actually has a "kid's mode," wherein Alexa will tell silly jokes, play games, and teach good manners like encouraging them to say please and thank you. If you're thinking about putting a speaker in your kid's room, Amazon even has a device just for children called the Echo Dot Kids Edition.
Don't limit your research to just kid features, though. Many of the most popular features are likely to be the ones you or your kids use most. From basic ones like the alarm clock, to the more advanced ones like Tile Tracker, which can help you find items that are frequently misplaced.
But all these features are changing on a daily basis — much like our cell phones, they get frequent software updates that will be available for both new and existing devices — and there are far too many to list in a single article, so remember this is just the tip of the iceberg. And that's why you'll want to do thorough research.
Compatibility with smartphones, computers, and smart home devices
Nowadays, most of us have smartphones and computers that we use daily. And many of us have developed a strong opinion as to what brand or interface we prefer. If you're an avid Apple user, you'll be happy to know that the HomePod will sync across all your devices with little effort on your end.
However, the HomePod isn't the most popular or most compatible across other smart home devices you may want to integrate with, such as automated plugs, light-bulbs, or thermostats. But that's likely because it's much newer than the others, so that may change soon.
Even if this is your first time looking into a smart speaker, you don't want to take compatibility for granted. It's likely that the device will soon become part of your family's routine, and you never how you might want to use it in the future.
This is not to encourage families to replace face-to-face time, however. While tech can bring convenience to our lives, it's important to remember that nothing is more valuable to a child's development than the time spent learning and socializing with others face-to-face. But as our lives get busier and busier, smart speakers can be a great way to help manage our time and perhaps even make more of it to be spent bonding with our loved ones.
By Andrea Harvey