A Step-By-Step Guide On How To Write A Research Paper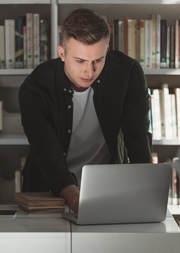 A research paper is an academic paper where scientists, scholars, and even students present their research on a specific topic. It compromises analyzing the results of experimental evidence with citations. This is one of the most powerful ways to share the knowledge of researchers around the world.
The research paper shows the expertise of the researcher that also helps other researchers in the future. So, have you wondered how to write a research paper successfully? Well, this article will give you an ultimate guide on writing a research paper step-by-step. Let's reveal the hacks.
The Steps to Writing a Research Paper
Get familiar with the research paper
Choose a suitable topic
Do your research
Form a thesis statement
Construct an outline
Write the draft
Add proper citations and references
Revise the copy and finalize it
After knowing the key steps of research paper writing, let's discuss them in detail.
Step 1: Get Familiar With The Research Paper
The first thing you need to do it read several research papers that have been published by experts.  This will get you familiarized with the style and format of the research paper. This will help you get an overall idea about the contents of the research paper. The more you read, the deeper your idea will be.
While reading different research papers, note down the important things like formatting, spacing, font, length of a paragraph, rules to adding figures or charts, word limit, essential points to cover, citations, and so on. If you have any doubts, clarify them with your teacher or professor.
Step 2: Choose A Suitable Topic
After getting an overall idea about the research paper, now figure out a good topic that you will work with. To do it, consult with your professor and experts in the field you are interested to research in. You can either work on a new topic or improve any preexisting research.
The previously peer reviewed and published research papers are found in the-
Central library of your college or university
Google Scholar
Online publications like Zotero, Academic journals, Scientific Research Publications, Science and Education Publishing, etc.
Your professor's recommended research papers
Study a lot to find out a unique topic in your field to research. Your instructor may help you to pick a trendy topic for your research. But try to reveal it on your own.
Step 3: Do Your Research
When you get a topic, start your research sincerely. Read several related research papers and inspect how the researchers did these. You may work in the lab or software to get more precise results from the research. Also, consult with the experts on this topic to get more precise answers. Clarify your doubts by asking yourself why, how, what, … etc, in every step for deep research.
You'll find lots of resources on your topic but not all of them are reliable to use in the research paper. For example, Wikipedia is an open source resource for any topic, but you can't accredit them in your research paper. Find out worthwhile sources before using any scientific formula or theory in your research.
Learned advanced search functions on Google also assist you in refining your search results to find specilized resources in your area paper's area of focus.
After the preliminary research, if you find this topic good for you proceed with it otherwise choose a new topic that suits you. Note down all the important analyses, and calculations of your research.
Step 4: Form A Thesis Statement
After doing primary research, it's time to make a thesis statement (introduction) that summarizes succinctly what you'll cover in your research paper. This statement is important and helps you to make a good research paper. It also states how other researchers will get benefitted from your research.
If you can't make a good statement starts with a question like 'Does the internet bad for your children' and then answer it. But don't put any fluff words there. Sometimes arguable topic makes the thesis statement interesting.
When your teacher or instructor will say the thesis statement is okay then plan how to prepare the other sections of the research paper.
Step 5: Construct An Outline
When you've completed your research, now form a format for your research paper. The necessary sections of the research paper include-
Title Page
Abstract
Acknowledgments
Author Page
Dedication
Table of Contents
List of Figures
List of Tables
Abbreviation/Keywords
Introduction (Thesis Statement)
Main Points of the Body (like Forming a Formula, Analysis, Calculation, etc.)
Conclusion
References
Each main points or headings include paragraphs, figures, charts, data, and so on.
Step 6: Write The Draft
Now start writing a draft copy of your research paper that you've gotten from your research. Keep in mind, you may need to write several drafts to finalize the copy. While writing the research paper describe all the points and avoid jargon and unnecessary things.
Consider the right spacing, font, and style of writing the research paper after completing the writing. Include proper headings and subheadings so anyone can understand easily what you may discuss there.
Step 7: Add Proper Citations and References
After compiling the draft copy, add the necessary citations and references to the research paper from which sources you use the scientific formulas. While quoting any points or formulas, include the publication name, year of publication, research paper title, author, page number, etc.
Usually, an academic research paper has two formats for citing;
APA (American Psychological Association)
MLA (Modern Language Association)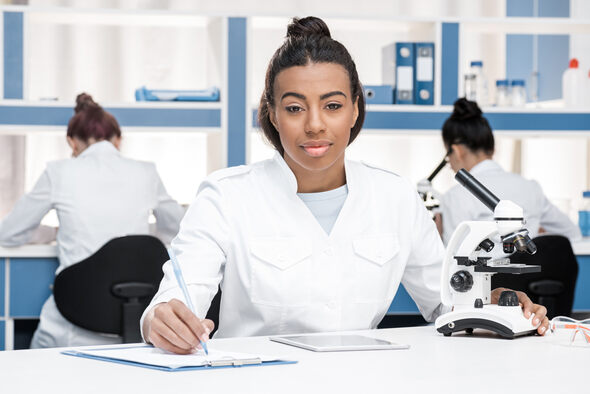 Sometimes you may also follow other citing rules like AMA (American Medical Association), CMOS (The Chicago Manual of Style), and IEEE (Institute of Electrical and Electronics Engineers).
Step 8: Revise The Copy And Finalize It
After making a draft copy, now recheck the whole writing several times to make it to the point and mistake-free. So, revise the formula, analysis, explanations, etc. If you find any wrong, edit it instantly. Also, check the following things-
Review the format of the research paper. If any correction is needed, do it.
Check the grammatical errors using Grammarly, or other similar tools.
To make the copy unique and plagiarism free check it using plagiarism checker tools like Copyscape, Quetex, Grammerly, Smallseotools, or any other reliable tools.
To make the research paper better, take suggestions from your professor or mentor so you can submit an original academic research paper. If he/she gives some changes to improve its quality, do it. When you are confident everything is polished and okay, submit it for your instructor's approval.
Congratulations on learning the hacks for writing the research paper step by step.
Watch this video layout of how to write a research paper: