Tasty Tales: Fun Cooking Shows for Young Foodies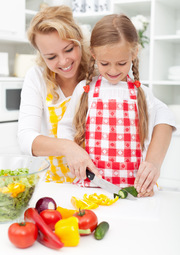 Finding an enjoyable and educational hobby for young children that encompasses both entertainment and learning can be difficult. Nevertheless, if your little one displays a fascination with cooking or exploring new recipes, introducing them to cooking shows tailored for kids can offer numerous advantages.
Cooking shows for children serve as a valuable tool for imparting fundamental cooking skills while keeping them captivated and interested. Additionally, they provide an excellent opportunity for parents and children to bond through shared activities.
When parents are looking for non animated shows for kids, cooking shows are often not on their radar. Continue reading to explore a compilation of the top 7 cooking shows that cater to children's enjoyment and engagement. Let's get to it.
7 Fun Cooking Shows for Kids
1. Waffles + Mochi
Where to watch: Netflix
PG rating: Age 4+
Have your kids ever asked you about the international cuisine? Well, in the 2021 TV series called Waffles + Mochi, young viewers embark on a culinary adventure spanning the globe.
The lovable puppet characters join forces with former first lady Michelle Obama to delve into diverse culinary traditions from around the world. Along the way, they acquire the knowledge of preparing an array of dishes. This show presents an excellent opportunity for kids to explore and gain insights into different cultures and their cuisines.
2. Cookie Monster's Foodie Truck
Where to watch: YouTube
PG rating: Age 3+
The popular duo of Cookie Monster and Ginger from Sesame Street come together in this entertaining cooking show. In addition to the beloved characters, the show also incorporates children as part of the cast.
The two puppets operate a food truck, where they receive orders from children via video messages, adding an interactive element to the show. They embark on delightful adventures while fulfilling the food requests in their mobile kitchen. Kids learn new fun recipes like rosemary bread, pancakes, popsicles and more.
3. Kid's Baking Championship
Where to watch: Amazon Prime
PG rating: Age 7+
Observing fellow youngsters engage in thrilling and enjoyable cooking competitions can be a source of amusement, excitement, and motivation for young children. In Kid's Baking Championship Duff Goldman and Valerie Bertinelli team up as they search for gifted junior chefs. The ultimate victor of this baking contest stands a chance to win a cash prize of $25,000.
The aspiring young bakers partake in a series of entertaining yet demanding rounds, showcasing their skills and creativity by preparing innovative and fun dishes.
4. Nailed It
Where to watch: Netflix
PG rating: Age 10+
If you are not a professional cook, you must understand the challenge of achieving culinary perfection. A dish that turned out horribly during one attempt can surprisingly turn out flawlessly the next time.
The show Nailed It! explores precisely this phenomenon. Amateur cooks try to replicate expertly crafted desserts, and cakes gaining valuable insights and discovering clever tricks along the way. Kids will enjoy this show as they watch a group of chefs struggle as they make themed cakes, and more.
5. Junior Bake Off
Where to watch: Hoopla
PG rating: Age 5+
A spinoff of The Great British Baking Show, Junior Bake Off is an entertaining cooking show for kids and parents alike. The young chefs exude great cooking skills with jaw-dropping recipes. From pies to themed cakes and cookies, you see young talented chefs getting their hands dirty.
It's so fun to watch kids creating tasty treats as they deal with mishaps and deadlines.
6. Sugar Rush 
Where to watch: Netflix
PG rating: Age 10+
Don't go by its name, as Sugar Rush is a popular candy-filled show with four professional bakers who go head-to-head for a prize of $10,000. They must compete in challenges and bake beautiful, colourful cakes.
Some of the most popular cake themes on the show are 'Cake by the Ocean,' 'Junk Foodie,' and 'All Things Chocolate'. If your kids are into baking, this is a great show to watch to give me inspiration and new ideas.
7. Dr. Seuss Baking Challenge  
Where to watch: Amazon Prime>
PG rating: Age 9+
Dr. Seuss Baking Challenge is a colourful show in which bakers are challenged with making confectionary delights based on Dr. Seuss characters. The show is great for watching with your kids as the set is beautiful which adds to the show.
You can incorporate Dr. Seuss stories with the show to entertain your kids. It's the one cooking show that will keep your kids hooked thanks to its Christmas theme and positive energy.
Delve Into The World of Tasty Treats
If you have a young and eager chef at home who loves nothing more than to help you out in the kitchen and cover everything in flour, then these shows are a must-watch.
These fun cooking shows will keep your kids entertained without making you cringe. We have shortlisted these shows after careful consideration to make sure they are age-appropriate with no profanities or adults behaving rudely.
Cooking is one of the most essential life skills that parents should teach their children. If your kids love preparing food, these cooking shows will inspire them to try new things in the kitchen. Moreover, study reveals that kids who watch cooking shows are more inclined towards eating healthy and home-cooked meals.
So, bond with your children and create precious memories by trying new recipes at home.