8 Ways to Support Your Kids in School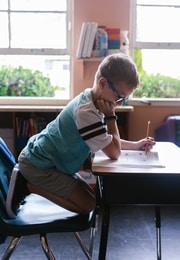 When you become a parent, you also become your child's first teacher. The examples you set and the lessons you teach them are the foundation for their entire lives, even within formal education. With this thought in mind, it bears stating that being present in their lives and their educations is one of the most important aspects of their lives you can be involved in.
Sometimes it can be difficult, juggling it all and trying to maintain a presence for them. Many students do well on their own. Other students are underserved and need all the support they can get.  Still, it is possible make a big difference in a child's school life by focusing on a few key areas.
1. Be Involved With School Staff and Teachers
Meeting your child's teachers and getting to know who's who among the staff at the beginning of the school year can help establish a partnership that serves to benefit your child's education. The teacher may have many students to contend with, but you can help ease the load and lessen their stress if you show you want to be involved. Your children will see your involvement and feel emotionally supported as well.
2. Keep Track of How Your Child is Doing
Doing this in order to punish them for bad grades will only stress both of you out, but ensuring you keep up with their needs is a significant way you can have an impact on their learning. Communicating with their teacher and seeing where their weaknesses and strengths are can allow you the headway to aid them before they get too far behind.
3. Help Them With Homework
Whether it's math, social studies or book reports – most children dread homework. After a long day at school, most just want to be done and go play, but this isn't always conducive to proper learning or information retention. If you can't help them with their homework directly, make sure you give them a special, quiet place to work. Check in with them to make sure things are getting done, rewarding them if they finish.
If you might be worried that you can't help them with homework because you don't know the subject or language very well, finding someone who can help may be a wise decision.
4. Have a Positive, Praising Attitude
An overlooked aspect of children's education is their mental health, and constant criticisms have been shown in studies to reduce both productivity and self-esteem. You are your child's first source of validation, and as such, you need to be their biggest fan. Without sacrificing their learning potential, it's important to support their strengths and praise them where they deserve it, while not letting them lag behind with their weaknesses.
By showing genuine interest in your children's education and giving them positive, constructive feedback, you can feel their enthusiasm to learn.
5. Don't Underestimate Organization
Having a routine, a schedule or an organized way of handling your child's curriculum can reduce stress not only for you but for your children as well. There are ways to organize at home for your children, such as designated areas for their home studies, whether it's for homework or distant learning. Another way is through an online school agenda, which stores everything you need within the cloud and reduces the likelihood that anything gets lost or forgotten.
6. Monitor Screen Time
Ensure your children aren't spending an excessive amount of time playing video games or mindlessly watching the internet or TV programs. Practical media usage is important, as is recreational. Finding a balance between screen time and keeping your children focused and productive with their homework is vital.  Ensure they have ample time to read or play away from a computer screen and look for ways to improve your child's learning skills outside school.
7. Encourage Independence
Micromanaging every aspect of your child's education is something you want to avoid, both for your time management and your child's stress levels. Be involved, but not overt. Help them develop their own routines and rules and show them how to follow through. Taking responsibility is an important life skill to learn, and doing so early can set good foundations.
8. Talk With Your Child
Talking and listening are important in equal measure; validating your child's feelings can help them feel seen and heard by you, their first teacher. Never underestimate the value of being an open-source of communication and a safe place for your children.
Success!
Becoming involved with your school and getting to know your child's teacher will also make your aware of the needs of school. You may have time to volunteer or assist by providing free school supplies or supporting your child's academic life through school fundraisers.  As a parent, you want nothing more than the happiness and success of your children, hopefully, this article has helped aim you in the right direction.