Safe Search Engine | Enhanced by Google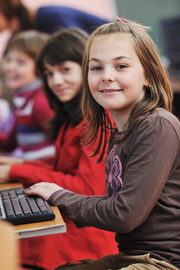 In many ways the internet is more safe today than it was in it's infancy. Search engines are better at screening out websites that are harmful to children and teens when you activate their filtering features. There are also many search engines in existence that are specifically devoted to providing safe search for kids with a higher level of filtering.
While there are more tools available and a greater awareness about online safety, the internet continues to evolve at a rapid pace. This poses new challenges that need to be addressed. By no means is this a time to ease up on educating kids regarding safe internet use.   This includes keeping the lines of communication open between kids, parents an teachers.
To bookmark our individual search engine tools scroll to the very bottom of this page then select from the following pages; Google SafeSearch | Safe Images | Safe Wiki | Safe Videos.  Or set this page as your main search engine and have your kids or students select the appropriate tab above our main search bar.

Parental Controls for Schools: All the features that parents utilize to protect their kids online is now available for schools.  This offers schools the ability to filter content on all school devices.  Discover internet filtering for schools
Safe Search Filtering
Parents and educators need to be vigilant in striving for the utmost in internet security for their kids, whether it be at home or in school. This is especially true regarding younger children who are not even aware of the dangers. It's important to keep on top of new trends that may pose a risk. While kids search engines make the internet more safe, social media sites now pose a danger that was not even an issue a few years ago.
For the utmost in online safety for kids, it takes a combination of filtering tools, parental control software and maintaining an open dialogue about topics such as proper rules of social media. Predators are online and unsuspecting children can be tricked into giving out personal information.
Please be advised that no safe search engine should replace the supervision of a parent or teacher when it comes to children browsing the internet. Bookmarking a kids search engine like ours for regular use is only the beginning to creating a safe environment online for children of all ages.
We also need to be reminded that the internet is now accessible on multiple devices and from many locations away from the watchful eyes of parents and guardians.
Google SafeSearch is automatically activated using our search tool. Apart form the web filtering tool at the top of this page, SafeSearch can also be implemented on any desk top browser or phone.  Learn More!
This website, Safe Search Kids, is not Google. We are not directly endorsed by them. Our affiliation with Google is strictly as a third party participating in their Custom Search Engine program.
Kids Search Engine vs Parental Control Software
A kids search engine like ours will filter results to keep kids from landing on bad websites. However, we do not stop a child from leaving our site and conducting a search from a search engine that may not have proper filtering.  Of course, you can activate proper filtering from within your browser, but you can't block access to harmful websites if a child is determined to seek them out. This can only be done with internet filtering software.
When parental controls with complete internet filtering is installed, if a child clicks through to a website that has illicit or explicit content access is blocked instantly.
The level of blocking can be set according to the age of the child. Additional features include the ability to limit the time of day internet access will be allowed, as well as the number of hours per day.
Safe Search Using Our Website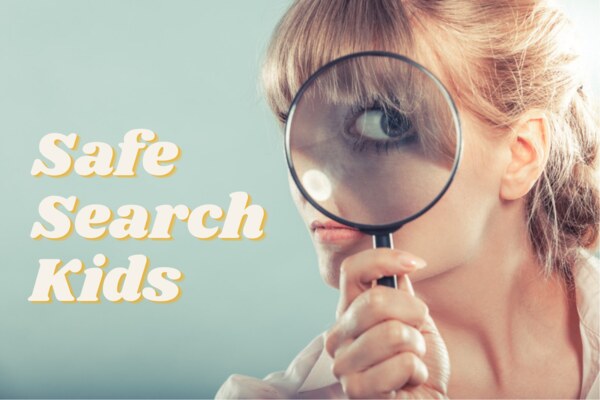 Individuals at home or kids in school classrooms can utilize our safe search tools on the top right corner of this website. They include:
Using our Google SafeSearch function, you will get filtered results sorted by relevance, but at the top right there is a drop-down box with an option to sort them by date as well. Additionally, depending on your device and browser, you can use web page search capabilities to quickly navigate through the results to find specific words and phrases.
Finally, unlike most other websites that employ safe search engines, we feature articles on various subjects related to a healthy online behavior, as well as internet safety articles for parents, teachers and many geared just for kids.
About our Search Search Engine
What does it take to provide a safe web experience for children at home and students in school?
It takes a combination of tools and resources working together in unison: internet filtering, safe and secure browsing, parental control apps, and education regarding a variety of topics. Safer search is our mission as we work to deliver these four cornerstones of online safety to parents, teachers, and students.
Safe Search Kids first launched in 2009 to automatically turn on Google safe search while using any browser.  Over the years it has evolved in to a robust filtering API that aggressively block unwanted websites that prove to be a danger to children.  Search tools were expanded to provide a safe kids wiki, safe images, and a video website that pulls only filtered videos from many educational websites, including YouTube.  In this way it provides an alternative to mainstream video channels.
We have also become a resource for parents and educators who are seeking the latest information related to online safety, including cyberbullying prevention, social media monitoring, and parental controls. Our search partner also provides a free kids search engine in the form of an app download.
Celebrate 'Safer Internet Day' for Greater Awareness
Education is key to online safety for kids. Safer Internet Day is an annual event that takes place on the 2nd Tuesday of the 2nd week of the 2nd month. The date will change from year to year, but it's always on a Tuesday. The theme also changes each year to focus on specific topics that are relevant to online safety.
While the focus of Safer Internet Day is designed to protect kids online, it is good advice for anyone surfing the web, including the importance of being aware of malware which ultimately can make your computer vulnerable to unsafe material.
Of course, a safer internet for kids all year long is important using kids search engines that lock safe search on your computer. Safe Internet Day is an additional way to draw attention to this issue. It raises positive awareness to spread the word about how young people can use the internet safely and securely throughout the year. This includes respecting each other online.