Are There Parental Controls for YouTube? 2022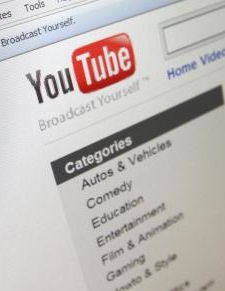 We are happy to offer a video filtering tool at the top of our website, but what if your child or teen is searching YouTube from a regular browser or smart phone? Fortunately, free parental controls are now available on YouTube using a Google account.
Even though YouTube contains questionable material regardless of filtering, there are ways to make it a little safer. For a better video search experience for kids, explore our safe video search resource.
In this article you will learn how to turn on Restricted Mode (formally called Safety Mode) and more importantly – how to lock it. This does not mean it will provide 100% safety when searching videos on YouTube, but it will help filter out the worst content.
You may also want to consider using a parental control app to block access to all bad areas of the internet, including YouTube.
Read about ways to control YouTube usage, including how to monitor comments being made by your kids on videos.
How to Activate Parental Controls When Searching Directly on YouTube.com
In the past, you could only turn on safe search for Google's regular search results to ensure safe browsing. After many requests from parents and educators, YouTube now has parental controls so you can implement YouTube Safe Search in your browser when searching from youtube.com.
To implement the Restricted Mode for YouTube, go to YouTube.com and scroll down to the bottom of the page….
You will see a reference to Restricted Mode: Off...
Click the drop down arrow and details about 'restricted mode' will appear…
Clicking On followed by the Save button will activate 'Restricted Mode' but will not lock it.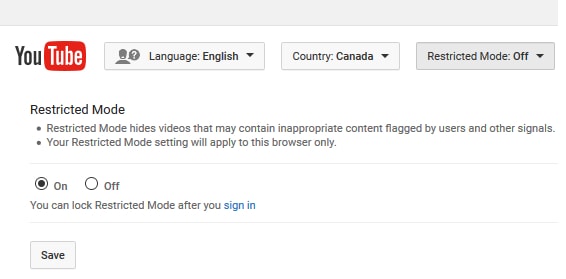 Locking YouTube Safe Search
As you will see, it's very easy to turn safe search on and off. Therefore, you may want to lock it in order to ensure it is always activated for all family members.
To Lock the Parental Control for YouTube, you will need a Google account. To open a free Google account, go to google.com and click "Sign In" in the top right hand corner of their main website. You will then see the option to create a new account.
Now return to YouTube (while signed into your account) and scroll down to the bottom of the page to the Restricted Mode link.
After selecting the "On" button, you will see an option to Save. Then log out of your account.

Restricted Mode is now activated you can now log out of your account. Unlocking restricted mode on YouTube will require you to log into your account. This guarantees that no one else can deactivate the safety setting.
Important: If you have more than one browser on your computer, you will need to follow these steps for each browser. Below is a video that walks you through the process of implementing YouTube Parental Controls that were just explained.  For safe mobile solutions, try our safe search app.
Remember, locking YouTube will stop the worst content but not all videos that you personally may see as unfit for younger viewers.
Watch this Video for Step By Step Instructions to Lock YouTube Safe Search
Even with parental controls activated, many parents and educators find YouTube inappropriate for their kids. Our safe video tab on the top of our website offers strict filtering of videos from a variety of safe sources.
Learn more about how parents can limit internet access through internet filtering.