Top Online Courses for Kids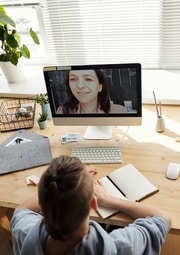 In this technologically advanced era, your kid can learn anything from coding languages to editing photographs online. All you need to do is explore your kids' interests and you are good to go. Once you find the subject your kid wants to ace, you have to go to your web browser and find the best online course that can help your kid in learning that skill.
In this article, we will list some top online courses available for kids.
What are Online Courses?
Online courses are interactive teaching sessions shared  in a video format. When you opt for a particular online course, you will be asked to attend either live classes or you'll get access to pre-built videos and other information to learn that course.
Online courses can be both free and paid depending upon the platform that is offering that course. Most of these courses include regular quizzes, test sessions, and much more to assure users that they are learning something new through the courses.
What are the Benefits of Online Courses?
Online courses meant for kids have the following benefits.
Online courses help kids in learn anything and everything within time flexible environment.
Interactive sessions offered by online courses help in grasping the information easily.
It's possible to master any skill, including coding for kids with online courses from comfort zone of home.
The availability of a number of online courses helps kids to choose one that suits them best.
Online trial sessions offer an opportunity to try as many courses as your kid wants.
Online courses are affordable and time-efficient solutions to learn new skills.
How to Choose an Online Course for Your Kid?
There are plenty of courses available online. From hundreds of Edutech platforms to thousands of YouTube channels, the internet is flooded with several different types of online courses.
Choosing the online course that best suits your kid is indeed a difficult task. However, your task of selecting the online course can be made easy if you take care of a few points.
Trial Sessions: Every online course whether paid or unpaid offers trial sessions. Take the few trial sessions of the course provided by different platforms and then choose the one that suits your kids best.
Reviews: Most of the popular platforms allow students to write feedback about the course. You can go through reviews and feedback of various online courses before finally selecting one.
Reputation: The quality of online courses highly depends on the reputation of both the teacher and the platform. Research thoroughly about the teaching skills and style of that particular teacher before enrolling your kid in any online course.
Resources: Kids take time to grasp knowledge conveyed through online courses. Make sure the course you pick for your kid offers various resources like videos, worksheets, podcasts, and much more for a better experience for your kids.
Affordable: It is a myth that only expensive online courses offers best learning experience. Even the free and courses with nominal fees can offer the best teaching sessions. Make sure your online course is affordable and won't burn your pockets unnecessarily.
Top Online Courses for Kids
Based on the reviews and recommendations, we have listed a few of the best online courses for kids.
1. No-Code Development Course
Mobile apps are the future of the digital industry. Mastering the skills required to create and publish apps at an early age can help your kid in the future.
Appy Pie Student Developer Certification Program can offer your kid a user-friendly environment to learn how to create an app without coding even a single line. This program consists of 4 interactive sessions (one-hour each)
The No-Code Development Course offered by Appy Pie helps your kid to turn their imaginations into reality. Your child need not learn heavy coding languages to create their app based on their ideas. This course is meant for any child from K-12 levels who have an entrepreneurial knack and a basic understanding of what mobile apps are. Joel Perez, the instructor of the Program offers a seamless and smooth onboarding experience for kids.
2. Piano Lessons for Absolute Beginner
If your kid is interested to learn any instrument, you can easily go with piano. Piano is one of the easiest instruments to learn that even kids would enjoy learning and playing it.
If your kid has a knack to learn the piano, then you need not spend a huge amount of money on piano classes. You just need to opt for Piano Lessons for Absolute Beginners offered by Udemy.
It offers a free 58 minutes online course in the form of video session. This online course will you're your kid to know about every key and its correspondent note. Your kid can also learn about major and minor scales along from a highly dignified piano teacher. And the biggest advantage of this online course is that your kid will be awarded by completion certificate also.
3. Codakid
Codakid is not particularly an online course but a highly efficient platform that offers interactive courses for kids. It tries to unleash the potential of young minds with its various online courses involving real coding instructions.
Offering highly affordable courses for beginners with monthly and yearly subscriptions, Codakid provides a fun learning process.  A team of friendly teachers will be available in every session of an online course.
With free trials and instant access, Codakid offers private online coding courses also. It offers more than 60 courses with over 750 challenges to test if kids can grasp something from online sessions or not. CodaKid assures your kid to master any coding language within a few months.
4. Introduction to Graphic Design
Graphics are nothing but attractive images. In this digital age, visually appealing graphics play an important role.
The graphic designing course is meant for all who have a creative knack and love to play with colors on a digital dashboard. This graphic designing course can help your kid to learn about logo designing, image editing, card making, and much more.
Appy Pie offers an interactive course Introduction to Graphic Design that is specially designed for kids. It will help create highly effective images, marketing materials, business cards, certificate design, and much more. This course covers the complete knowledge of Canva Tool and various techniques to create impressive graphics.
5. Online Language Learning
If you have an understanding of an additional language other than your mother tongue, it will really help you explore various industries. The best age for learning a new language is between 3-18 years.
Little Prim is one of the recommended educational platforms that offers several online courses to learn a new language. It offers online courses for 12 languages. You can pick anyone for your kid as per your choice.
Mastering a language is indeed a difficult task. However, Little Prim offers enjoyable online courses so that even a little kid can easily learn a language. It follows the technique of play and learn to engage the kids. It help your kids in mastering the new language within a few days.
Summing Up
We hope you have enjoyed exploring this list of selective online courses designed to equip and educate young minds and make them better students.  Free trials allow you to try the course you feel will work best for your child's needs.  Happy Learning!