Instagram Sensitive Content and Family Center – What Parents Should Know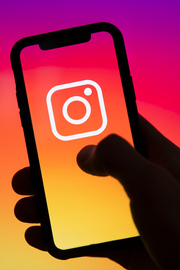 You have less to worry about regarding your kids' safety on Instagram! The platform has launched some features that let parents have control over their children's Instagram activities. In this article, we're going to introduce Instagram Sensitive Content and Family Center to help you keep an eye on your children when using Instagram.
Threats of Instagram for Children
Instagram has become one of the most popular social media accounts, especially among youngsters. Around 10 percent of Instagram users are less than 17 years old. Despite all the interesting features of the platform, it might be dangerous for kids and teenagers.
Let's list the threats that may harm your children on Instagram:
Cyberbullying
Although Instagram has no tolerance for bullies, there are still accounts that do cyber bullying. Kids are the most vulnerable group when it comes to cyber bullies.
Hate speech
Many accounts spread hate toward religions or races and you need to prevent your children from following these accounts.
Personal information release
Sometimes kids don't know that they're releasing personal information during their Instagram activities.
Sexual seduction
Unfortunately, many accounts on Instagram try to seduce your kids to have a relationship with them. Remember that there are many complaints about Instagram influencers in this regard.
Inappropriate content
Instagram's limit on pornographic content is not enough and there is still lots of inappropriate content for kids and teens.
Instagram Sensitive Content Control
Instagram's terms of policy don't allow any content that might be harmful to people. For example, hate speech, cyberbullying, or similar content are categorized as sensitive content on Instagram. Also, Instagram has launched another feature, called Sensitive Content Control, that allows you to put more filters on Instagram content.
This is great news for parents because many Instagram posts and stories are not banned by Instagram, but they're inappropriate for kids.
So you can easily let your kids know that they're allowed to use Instagram as long as you limit content that is upsetting or offensive.
Here is how you can use Instagram Sensitive Content Control:
Open the Instagram app on your kid's phone.
Go to his/her profile.
Tap the three-line icon (a.k.a hamburger.) You can see it at the top right.
Choose Settings and Privacy.
Under "What you see," choose "Sensitive content."
Choose a suitable option from the three options available;
More
Standard
Less
The last option is suitable for kids because it puts the most restricted filter on the content they can see on Instagram.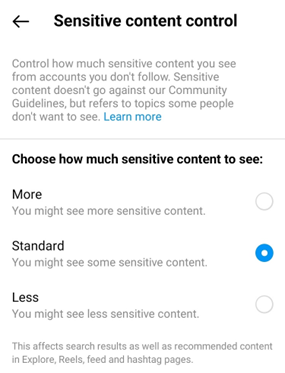 Instagram Family Center: Parental Supervision
Although the Sensitive content feature on Instagram is helpful, it won't ensure your kid's safety. Fortunately, there is another feature on the platform that lets you have more control over your kid.
Instagram Family Center provides supervision features to allow you to have an extra pair of eyes on your children's IG activities.
It lets you track the time they use Instagram and reduce their screen time. Also, you can be notified of their following and prevent them from following suspicious accounts.
To do that, follow the guide below:
Open your own Instagram account
Go to your profile
Tap the hamburger icon
Choose Settings and privacy
Scroll down and choose Supervision under "For families"
Family Center appears. Now, you have to invite your kid:
Tap "Invite your teen
Choose one of the options: "Find your teen on Instagram" or "Send your teen a link"
Now, your kid has to accept the invitation.
When he accepts the invitation, you'll gain access to his/her account.
Other Instagram Safety Tips for Parents
Here are some extra tips for parents to make sure about their kids' safety on Instagram:
Screen time limit
Try to define a daily time limit so that they avoid spending too much time on the platform. Remember that social media can cause damage to their health and also their educational performance.
Check their followers
You need to know who they're following or who has followed them. This way, you can spot suspicious accounts and take suitable measures.
Check their account's Settings
You need to check their accounts so that they don't change sensitive content or other settings.
Teach them how to set a powerful password
You need to know that Instagram accounts can easily be hacked. So you have to teach your kids to set strong passwords to save their Instagram profiles from hackers.
Keep their accounts Private
As you know, all users can see the content of public accounts. So you have to switch your kid's account into a private one to avoid releasing personal information.
Install third-party parental control apps if needed
If you think that your teen doesn't care about your warnings, you can install a third-party parental control app to control their Instagram activities. Using these apps, you can keep track of all their activities and even record their IG calls. Some of these apps let you remotely block the app on their cell phones. Tracking suspicious keywords on their account is also a great service these apps offer.
Final Words
Many children ask their parents to let them have an account on Instagram. Unfortunately, some of them watch inappropriate pictures and videos on Instagram or use the platform for sexting. So the wisest course of action is to have parental control over their activities on Instagram. They need to accept your supervision invitation so that you can see their activities. If you see that your teen resists, you can use hidden tools to monitor their activities without them knowing.