How to Turn On Safe Search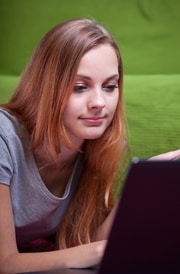 It's one thing to turn on Google safe search, as it's fairly easy to do with a couple clicks of a mouse, but if your have kids searching the internet and you are not running parental control software, you will also want to turn on safesearch and lock it you it can't be turned off again. We'll show you how to do both, as well as provide stronger filtering solutions for any group of kids on multiple computers.
The video below will guide you through the steps and display how easy it is to turn on safe search, but you'll also see how it's just as easy to turn it off. Therefore, to make sure Google SafeSearch is always ON you'll need to Lock It with a Google account that only you have the password to.
To access the search settings in any browser simply go to Google and enter a search term. You will then see the Settings link above to the right of your search results. The drop down menu will reveal the option to turn on safesearch. Once it's turned on, the same drop down menu will now show the option to turn safesearch off. For additional search features, click Search settings in the drop down menu.
How to Ensure Google SafeSearch is always kept ON
To prevent someone from deactivating the safe search feature, you will need to lock it in place. The steps begin in the same way as mentioned above.
First, log into your Google account. If you don't have one, simply create one. If you already have a gmail address, this the same as your Google account.
Once logged in, do a search on Google.
Look for the settings button above your search results.
In the drop down mention, click Search Settings.
Click the link that is labelled Lock SafeSearch. This will bring you a box that is directing you click again to lock safe search.

After clicking it you will see the process beginning, from 0% to 100%, to lock Google SafeSearch. NOTE: If you see an error message, you may need to check or uncheck the box to the left. Try both ways until you see the process beginning as shown below.

Now log out of your account. In fact, you will need to sign out of all accounts if other users are logged in. Otherwise, other people will be able to turn safe search off. When kids with Google accounts log back into their Google accounts, they will not be able to turn off safe search.
The Limitations of Safe Search Filtering Using Google's Home Page
As you experiment with various searches on Google, you'll see the filtering of words, topics and images only goes so deep. Even Google states it is not 100% accurate. It helps to filter the most blatant material but there is still plenty of search results that will not be appropriate for kids. This is where our website comes in. Safe Search Kids has additional filtering that is very strict in what it allows through.
Compare search results on the top of this page for Google's main sige, as well as Safe Images, Wiki for Kids and Safe Videos.
Turn on SafeSearch using Parental Control Software
When all is said and done, whether you turn on safe search on Google.com or use our website where safe search is always locked, access to other parts of the internet will still exist. This includes the ability to use other search engines. The only way to have complete control over the what your kids see online is by installing parental control software.
When installed on all of your home's devices, all porn is blocked. All questionable websites are blocked. You can block the use of certain social media networks, as well as app installations. You will be able to set different levels of filter depending on the age of each user. Parental control software will also allow you to limit screen time to a certain amount of hours per day or during specific hours. All of this control and more will be available to you from within your parental dashboard. See all the features available here.
Whether you rely on Google's basic safe search features or install parental controls, we encourage you to bookmark Safe Search Kids for helpful tools and resources as we all strive to keep kids safe online.
More About the Safe Search Features on Safe Search Kids
In additional to our Google filtering for kids, which ensures safe search is turned on and always locked, we also provide the additional search tools.
Safe Image Search: What's unique about our image filtering is that the websites hosting the images in our results are also screened. This increases the level of security because all of the website hosting the images are already deemed safe for kids. In fact, many of them are educational sites ending in .edu or government websites ending in .gov
Safe Wiki for Kids: On the Safe Wiki Tab, all search results appear on our partner 'Wiki for Kids' website. So, it's not Wikipedia, nor is it the Simple Wikipedia version, Wiki for Kids is a Wikipedia site created just for kids. Safe Video Search:
Safe Video Search: And finally, we have the Safe Videos tab. Just like Wiki for Kids, video search results are from our own partner run safe video website for kids. All the videos are filtered to ensure no questionable videos show up in search results.
The Internet Filtering on any our safe search tabs is very strict, so if a bad term is entered users will see a blocking logo. At this point they can enter a new search term above. We encourage you to bookmark our website for easy access to all of our search features. We also have many online safety resource articles for parents and educators, as well as articles written just for kids.