Free Safe Search App for iPhone, Android, Kindle Fire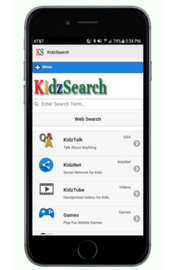 Many schools use our website to provide Google SafeSearch for safe filtered search of the internet. Our tools also include safe image search, wiki for kids and safe videos. Now you can directly install the Safe Search App on any of your mobile devices for worry free access. Every filtered search happens within the app.
When users click on a website that appears in the search results, the user remains within the safety of the app. Bottom line, any child using the app, whether they be a preschooler, tween or teen, never leaves the app during their entire search experience. What is so brilliant about having safe search on an app is that search results are not part of a web browser.
Important! Our search app is not the same as parental control software. If kids use another mobile browser to search the web, content will not be filtered, but the app still goes a long way to provide strict filtering of Google.
The Safe Search App – Downloads!



If you have an iPhone, iPad, Android smart phone or tablet such as Google Chrome, download The Safe Search Kids App for easy access.
To download these apps on your phone or tablet, you must reading this on the device where the app will be installed. Go to www.SafeSearchApp.com on your device before clicking the links.
Download the Safe Search App for iPhone/iPad – iOS devices.

Download the Safe Search App for Google Play – Android devices.

Download the Safe Search App for Kindle Fire / Amazon.
In addition to filtered search results of the entire internet using Google, the same search tools we feature on our website are available on the app.
Safe Image Search
Safe Video Search
Wikipedia for Kids
We encourage you to continue to use our website for safe search results if you are on a computer or laptop that wasn't created for app downloads. Bookmark this page and conduct of all your web searches on the top of this page for strict web filtering.
Download the Safe Search Kids APP for Mobile Devices, powered by Google
For these links to work, access this article through your mobile device or go to SafeSearchApp.com from your mobile device.