Free Safe Search App for iPhone, Android, Kindle Fire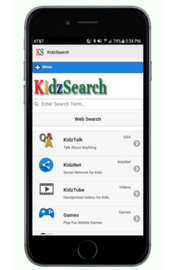 Many schools use our website to provide Google SafeSearch for safe filtered search of the internet. Our tools also include safe image search, wiki for kids and safe videos.  Now you can directly install the Safe Search App on any of your mobile devices for worry free access. Every filtered search happens within the app.
When users click on a website that appears in the search results, the user remains within the safety of the app.  Bottom line, any child using the app, whether they be a preschooler, tween or teen, has easier access to our safe search for kids tools.  Searching on the app ensures that filtered results are not part of a web browser.
Important!  Our free safe search app is not the same as a parental control app.  If kids use another mobile browser to search the web, content will not be filtered, but the app still goes a long way to provide strict filtering of Google.

Safe Search for Schools:  If not using our website for safe browsing, install this app for safe search results on mobile devices.  Alternatively, schools can download parental controls for use on any device in the classroom.
The Safe Search App – Downloads!



If you have an iPhone, iPad, Android smart phone or tablet such as Google Chrome, download The Safe Search Kids App for easy access.
To download these apps on your phone or tablet, you must reading this article on the device where the app will be installed.  Or go to www.SafeSearchApp.com on your device before clicking the links. 
Download the Safe Search App for iPhone/iPad – iOS devices.

Download the Safe Search App for Google Play – Android devices.

Download the Safe Search App for Kindle Fire / Amazon.
In addition to filtered search results of the entire internet using Google, the same search tools we feature on our website are available on the app.
Safe Image Search
Safe Video Search
Wikipedia for Kids
We encourage you to continue to use our website for safe search results enhanced by Google through KidzSearch.  I if you are on a computer or laptop that wasn't created for app downloads. Bookmark this page and conduct of all your web searches on the top of this page for strict web filtering.
Download the Safe Search Kids APP for Mobile Devices, enhanced by Google. For these links to work, access this article through your mobile device or go to SafeSearchApp.com from your mobile device.
---
Safe App Update:  Our Safe Search partner is working on a new product for the KidzSearch app that will let parents and schools (teachers) remotely monitor what kids are doing. It will also control the filtering on the app. An update for the Android version was just release that checks each url for safety.  It blocks harmful bad url's by going against a very large database of sites that are not safe for kids. It also enhances parental controls for YouTube by looking at the specific video title/category and checking safety.
If parents remove all browsers from their phones or tablets, it greatly improves the safety of their device. The previous version of the app gave safe search results, but it is possible to get to a search engine, like Bing, and then find adult content through it. For example, they could use Wikipedia to find a link to Bing. This new update on the app stops that from happening.  For more parental control settings on your devices, explore our free parental controls guide for complete Internet safety.
The next phase will include an upgrade where parents can monitor history and do other things, like entirely block sites they don't like, as well as control the search strictness level.  More details will soon be posted.
Click the banner below to download the Safe Search App for the device.