Roblox Parental Controls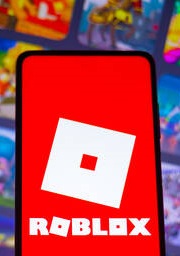 Many children are now obsessed with online games. One of the trendiest games that you may be hearing about is Roblox. Tens of millions of users around the world have fun with this digital platform.  No doubt, Roblox multiplayer game is helpful for kids to build a community, learn creative things, and get entertained.
However, there are some risks involved such as cyberbullying, exposing inappropriate content and online predators.  Roblox is yet another platform that parent must be serious about to keep kids safe from imminent dangers while they play the game. Luckily, you can limit their activity and monitor whom they are chatting or playing with by activating Roblox parental control.
So, let's review why and how to activate parental control features on Roblox.  We'll also explore the potential benefits and dangers of the Roblox game.
What Is Roblox?
Roblox is an online platform for children and teenagers where they can play games and create anything they imagine using Roblox Studio. This blocky, cartoon game is developed and released in the years 2004 and 2006 respectively. David Baszucki and Erik Cassel are the founders of this game.
Roblox is a free and open-source game that you can download instantly for any type of device. Users can choose their favorite avatar (player), as well as shop outfits and accessories by spending the 'Robux' virtual currency. And Roblox Premium is available with more features.
According to a Roblox report published on February 22, they have more than 55.1 million daily active users mostly children and teenagers. And their estimated revenue is between $204 million to $207 million per year.
What Are The Benefits Of Roblox?
Here are some of the benefits that kids acquire from playing Roblox games.
Makes children imaginative and creative
Develops problem-solving skills
Improves social skills
Develops designing, programming, and many other skills
Provides lots of entertainment
What Are The Potential Dangers Of Roblox?
Besides lots of benefits, there are some disadvantages of the Roblox game that you should take into consideration.
Spending lots of time on screen make kids addicted
Have cyber security risks
Some content features violence
User-generated games may contain adult content, inappropriate languages
Players buy game items using the virtual currency 'Robux'. If kids get a chance to spend money online to purchase things, they might misuse it.
Are Parental Controls for Roblox Necessary?
Roblox game has some risks for children, especially cyberbullying. Many parents complain about inappropriate content. So, parental control is a must to keep kids protected from online predators while they play Roblox games.
It features a parental control menu that helps to limit the activity of kids' online games. This also allows monitoring of what the kids are doing in Roblox. The next section will explain the way to activate parental controls on Roblox.
How To Set Roblox Parental Controls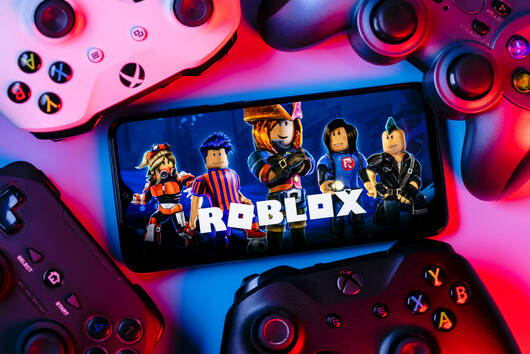 The process of activating parental controls on Roblox on the web and smart devices is quite different but the main thing is almost the same in both cases.
The steps are as follows:
Step 1: Set Up Account Properly
The first thing parents should do is set up the account correctly. Be sure you register with the right date of birth and name of your child. According to the age of the kids, privacy and security are designed in the game. When users play games online, the level of the games will also be offered depending on their maturity.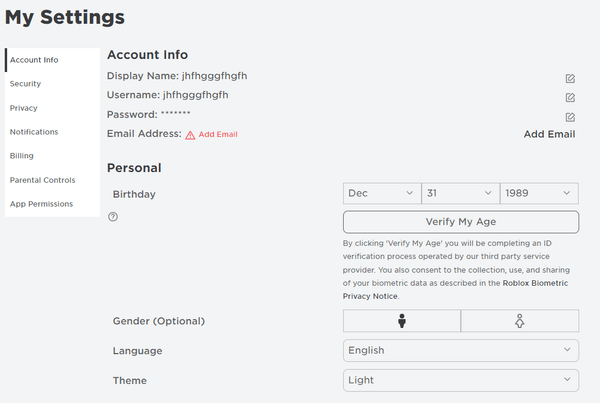 If your child has already registered a Roblox account, you need to log in there. If you don't know the password, hit the forget the password button. Now correct the information if kids open the account with the wrong name and age.
You can change it by entering 'My Settings' and then the 'Account Info' section. Both web and phone will allow doing that. Put a verified email address and select the right gender. Also, choose a strong password combination of numbers, and symbols with capital and small letters.
Step 2: Activate Parental Control
You will find the 'Parental Control' menu under 'Settings'. Here you have to set a parental control pin 'Parent Pin' first. Put a 4-digit pin and enable it. Also, select the age limit from the 'Allowed Experiences' option. There are 3 different age selection options: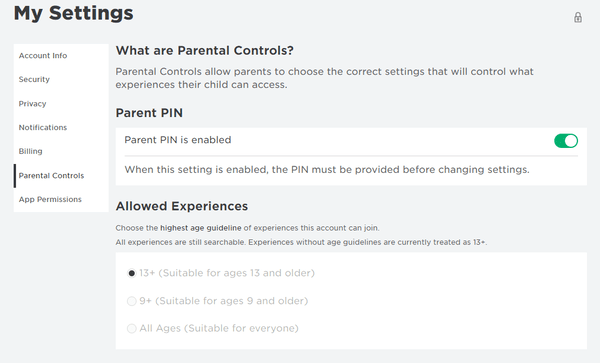 13+ (Suitable for ages 13 and older)
9+ (Suitable for ages 9 and older)
All Ages (Suitable for everyone)
So, choose the right age according to your kids' age.
Step 3: Set Roblox Privacy Settings
From the privacy setting option enable the 'Account Restriction' option. After that turn off the 'Communication' option. And from the 'Other Settings' select 'No one' for all available sections as shown in the image. So, the parental control on Roblox is now activated in the game.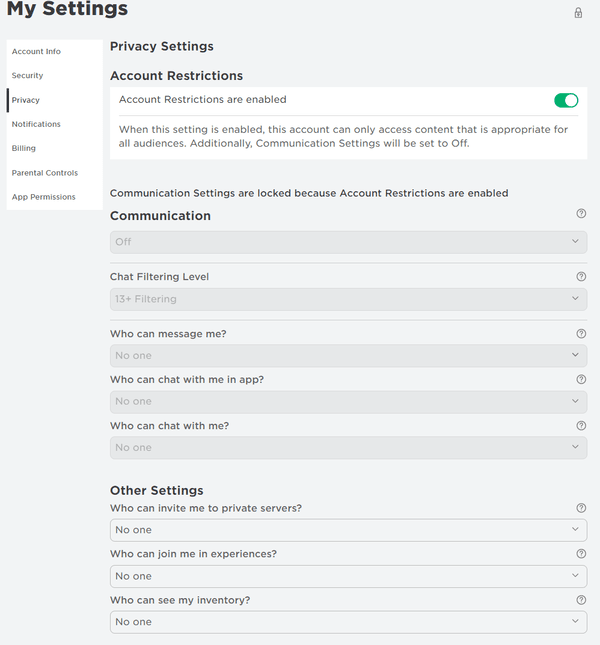 Summary
Roblox is a popular interactive game for children and teenagers.  Still, cyber security and privacy concerns is a major concern for parents. However, if you activate the Roblox parental controls with proper online privacy settings, your kids will be able to enjoy the benefits of any gaming app with the most harm reduction possible.
Of course, parents should continue to be diligent to remain active in monitoring and limiting their activities. This can be done by checking in with you child regularly.  However, installing third  parental controls   Whenever you get any notifications, review them soon and act accordingly.  Also, limit their play time so they don't get addicted to the game. And educate your children about online bullying.