Learning With Puzzles and Games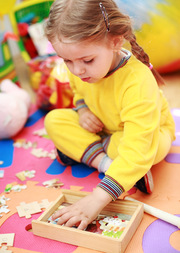 Play is a fantastic way to foster your child's creativity and build necessary skills like problem-solving and motor skills. Puzzles and games are excellent tools to foster play and get little minds working. Safari Ltd® has many options for great puzzles and games for every age.
Puzzles and Games for 0-1-Year-Olds
Your zero to one-year-old can enjoy games just as much as other children. Consider letting them play with items such as sensory balls, magnetic foam blocks, Plus-Plus blocks, and other bright toys. Anything squishy, textured, has simple moving parts, and isn't composed of small pieces is fair game to help these little ones learn through play.
Puzzles and Games for 2-3-Year-Olds
Two- and three-year-old toddlers love games such as fishing, ring toss, shape sorters, colorful blocks, cars and trains, jack in the box, and tapping games. Shapes that your child can stack, or sort and place into openings are fantastic options to develop fine motor skills.
Puzzles and Games for 3-5-Year-Olds
Safari Ltd® has a wide variety of puzzles and games for this age. 20-piece puzzles, cogwheel games, balancing chairs, matching games, bingo, and seesaws will all capture your child's attention.
Puzzles and Games for 6-8-Year-Olds
This age can do larger puzzles, like 100-piece puzzles, as well as play simple board games. You can also try 3D puzzles with them, which are wood or cardboard pieces that come together to form animals or other shapes. Marble tilts, swim toys, doll houses, advanced matching games, and simple card games are also fantastic options. Safari Ltd® also has mazes that are fun at this age.
Puzzles and Games for 9+-Year-Olds
Children aged nine and older can enjoy the challenge of 300–1000-piece puzzles and more advanced 3D puzzles. IQ puzzles and games like Capture the Flag that require a lot of movement can help keep brains and bodies healthy. Complex dot-to-dots, color-by-numbers, and simple machine kits are awesome options.
The older your child gets, the more complex games they'll be able to play. Depending on your child's interests and needs, you can also consider buying science experiment kits or math games.
Kids of this age can also play most board games out there. Try and choose board games involving strategy to get the best results, which can also include chess and checkers.
Puzzles and Games for Teens
Safari Ltd® offers building blocks and Lego options for all ages. Building kits are perfect for older kids and teens. Not only are they fun, but they require attention to detail, reading comprehension, and creativity. They can also be saved and treasured or recycled into something new.
Where Can You Find Learning Toys?
The best way to find toys that will grab your child's attention and that can also help stimulate learning and play is to look for stores and websites dedicated to selling these types of puzzles and toys, such as Safari Ltd®. We have a huge variety of options to help improve play and learning for your child of any age.
Additional Resources
Read about The Benefits of Puzzles in Early Childhood
PDF Download:  UNICEF Lego Foundation Learning through Play