How You Can Help Stop Cyberbullying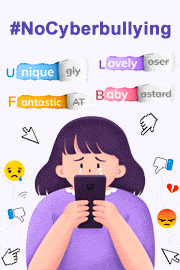 Do you know what a bystander is?  It's someone who watches an event taking place from the side lines.  They do not interact or take part in what is happening.  People talk a lot about cyberbullies and their victims. One part of this social ill that people rarely talk about is how bystanders effect the situation. Some researchers call them "cyberbystanders."
Cyberbystanders are those who watch cyberbullying while it happens. They are the other people in chat rooms or on social media apps who can read the posts that the bully posts to the victim. Yet, they don't do anything to help stop it.
Are you a Cyberbully Bystander?
Cyberbystanders can be middle-school kids, college students or even business associates. These people will watch the exchange and have a chance to speak up. But do they?
Many studies have been done to see exactly what happens to cyberbystanders. A university study found that only one out of ten cyberbystanders will take a stand during the exchange. The action these people take is usually limited to posting support for the victim or posting comments that the bully should back off.
Most of the time, though, cyberbystanders do nothing. The studies seem to show that cyberbystanders didn't want to get the middle of a situation that was none of their business. They didn't seem to make the connection that they were on a public site—making everything that happened there public.
Some of the cyberbystanders who did nothing during the bullying did take action afterwards. They sent comments to moderators or to the site's security officers. Moderators and site security can remove offending posts and even ban bullies from the site.
Are you being bullied, whether on the playground or online?  We know it hurts.  Here are some things you can do when you are bullied.
Companies are taking cyberbullying more seriously these days and will often respond to comments within hours. This can help prevent further bullying, but still doesn't make a difference to the victim of the bullying that's already happened.
Cyberbystanders online act much like real-life bystanders. When an accident happens on the street, if there are lots of people watching, then people are less likely to help. In other words, the more witnesses there are, the fewer people will help.
That is the same online. If lots of people are watching the posts and tweets, the less likely someone will step in and defend the victim or criticize the bully. If only a couple people are reading the posts—or witness the accident—the more likely they are to step in and help. On the other hand, the more people that are following an ugly exchange online, the more brutal the bully will be. It seems that bullies like an audience.
Social scientists are still trying to understand the difference cyberbystanders make to online communication. What you can do is remember that you are probably a cyberbystander. Talk with your teachers, friends or family about what you should do when you see bullying happen online. Don't be one of the nine out of ten who does nothing.
---
FamiSafe and Safe Search Kids have joined together to stop cyberbullying, as well as prevent it and help those who are victims. It's a sad fact. Cyberbullying can can spread to anywhere the internet can reach, which is pretty much everywhere. So, we all need to work together.
You can do your part with The No Cyberbullying Challenge.  Simply make an anti-cyberbullying post with the hashtags: #FamiSafe #NoCyberbullying. Every little bit helps in preventing and stopping the internet being used for harm instead of good.