5 Things Parents Need to Know about TikTok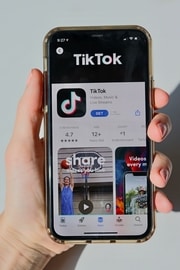 Everyone has heard a lot about TikTok. Since its introduction, it has been incredibly popular and one of the most actively downloaded applications. Many celebrities and bloggers have their accounts there, in order to promote their content, while ordinary users watch the viral videos.
According to a 2021 study, TikTok has over 1 billion active users. Every day over 50 million people use this application.
We can only rejoice for app developers and creators and their success. However, there is a dark side. The incredibly popular networks are dangerous for kids' online safety. Parents whose kids love to spend a lot of time on the phone should set up social media for kids and also take parental control seriously, as innocuous actions can backfire.
In this article, we will talk about the dangers of the TikTok app. We will tell you how to make safety settings and give some safety tips for your children.
What is the danger of TikTok?
When buying a phone for our children, we do this so that our kids are always in touch and we know where they are. However, in the era of using the World Wide Web, it is impossible to keep track of all the actions of the child on the phone. Some parents do not even realize how reckless actions on the Internet can lead to dire consequences.
On the one hand, with the help of TikTok videos, they can learn a lot of new things thanks to educational content. They can observe other people's talents and this can inspire them to find a new hobby. However, besides all this, there are also dangerous things.
Video 18+
Recommendations that are selected for viewing using the algorithms of the application can offer completely different videos for viewing. Initially, your child may watch funny videos with kittens and dogs, and the next one may be 18+ videos or clips where injuries are inflicted, or there is a conversation about the meaninglessness of life.
Application developers conduct regular work to track negative content, but such work cannot be done promptly.
Moreover, open profiles of children can lead to the fact that pedophiles or other unfriendly people can communicate with your child and force them to perform immoral actions. First of all, you need to set up your child's account, make the account private, so that only friends can write messages and watch videos. Secondly, for your peace of mind, you can install a parental controls on a phone, which will monitor all of your child's activity when you are not around and send you alerts, including apps like TikTok.
Intimidation
Many children not only watch videos of other users, but also upload their videos, repeating trends and challenges. It seems quite harmless, but if your child provides personal information, then people with bad intentions can send messages and encourage them to shoot a video of a sexual nature, or simply send messages with threats that humiliate and insult your child. This can lead to the fact that your children become afraid and they may have thoughts of leaving life.
In order to avoid bullying, you should have a conversation with your child and explain that in no case, in any applications, they cannot indicate their personal information and place of residence. Explain that not all videos are good and harmless.
Also, do not prohibit the child from using these applications. Because everyone knows that when something is forbidden, it becomes what we desperately want. In this case, your child will hide many things from you. You should have a serious conversation with your child and explain in a calm tone how their actions on the Internet can turn out. Your job needs to include establishing trusting relationships and raising confident children.
How to make TikTok safe for your kid
How safe is the app for young children?
This year, the app has updated privacy settings to ensure that the app can be used by children over the age of 13. When registering, the application automatically makes the account private. Also, if children create their video, then only their friends, confirmed users of the application, can view it.
However, don't completely rely on these settings. Many children may indicate that they are over 18 when registering and viewing adult content. Therefore, make sure your child's account is private, and also check friends who can watch videos your child has posted.
Controlling content and personal interactions
One of the most invasive features of TikTok is the ability for users to go "live" after they have a certain number of followers.  Once they are streaming live, anyone can join and interact with the host in the chat.  The host can also allow individual viewers to go live with them on a split screen while everyone else watches. This can go sideways fast if a stranger taking part in the live event has anterior motives when connecting with a minor.
This is one of the many reasons to set up parental controls on TikTok to protect kids. The app allows you to link your account with your child's account. To do this, you need to use the "Family Pairing" and "Digital Wellbeing" functions. Thanks to these functions, you get the opportunity to view personal correspondence with other users, set up restrictions on the use of the application, set time limits, and you can also prohibit viewing adult content.
Data collection
It's no secret that many apps and social networks store your personal information. Moreover, TikTok sends your data to many companies and advertisers so that you can receive interesting advertising offers in the recommendation feed. If anyone has carefully read the privacy policy of this application, then you are well aware of this.
However, there is one thing that is not mentioned anywhere. When you are not using TikTok, but using other applications, then it collects all your data, such as passwords, bank card details, and other personal information.
Conclusion
The world of the Internet is incredibly exciting, but also dangerous, especially for children. Unsuspectingly, your children can fall prey to intruders and provide them with their personal information. Parents should get serious about Internet safety, review all the app settings that enable privacy features. Also, be sure to have a conversation with your child and explain what good and bad things are. It is not enough just to prohibit doing something, it is necessary to provide explanations so that your child learns to understand that many actions in applications can lead to sad consequences.
About the Author:
Ben Jacklin is an expert writer in software reviews and tutorials. He has qualifications in Media and Music Technology and has been blogging about  tech support since his teenage years. He writes on a variety of topics, including the latest trends in the world of media, gaming, and education, with a focus on providing high-quality and safe programs that might be useful for his readers.