Gamer Security | Anti-Virus Software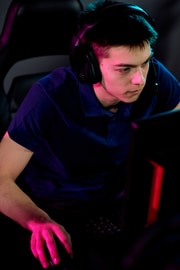 Got a kid that loves to game? Or maybe you are an avid gamer yourself. Have you thought much about gamer security? There has been plenty written about protecting your home computer with an anti-virus program, but what about increased performance while gaming?
A big problem arises when the anti-virus is turned off completely because it interferes with the online gaming experience.  McAfee Gamer Security solves the debate within families regarding how much security one can compromise in order to maintain computer performance while playing.  McAfee created Gamer Security as a complete gamer software solution.  Security + Performance.
This gamer security software was not designed to merely prevent a decrease in gaming performance while staying protected online, the software boasts a faster, more quiet, and safer gaming experience thanks to cutting edge performance enhancing technologies.
Game Boost Engine
Some anti-virus programs have long had a problem with bogging down computers while you are trying to other tasks.  Gaming is more than a task.  It's be huge drain on an operating system and requires a fast internet connection.  It also craves every ounce of CPU and RAM it can squeeze out of your operating system.  The McAfee Gamer Security program works to get more performance out of your operating system and ensures your games stay prioritized over applications running in the background.
All of this increased speed happens without you having to turn off the anti-virus program that is part of the software.  Slowdowns are bound to happen so this gamer software promises to resolve those slowdowns quickly so your game is not held back from working properly.  This is especially important when playing online with a team.
App Manager
The app manager within McAfee Gamer Security gives you control to kill or de-prioritize resource heavy apps.  While maintaining operating system performance, the software automatically saves stats from your last 5 game sessions which you can look at later.  Settings are customizable, providing intuitive control over system optimization and pop-up suppression is readily available. You can also tweak the software's multiple settings as desired.
McAfee Gamer Security helps you achieve a smoother overall experience on your PC, from everyday performance gains thanks to the low impact MicroAV engine to the FPS stability. This also results in smoother game play delivered by their Game Boost technology. 
Pricing
Some users may not like the annual price tag on this software.  Not that it's unusually priced above other anti-virus type programs, but the annual subscription for Game Security is only for one computer.  This may not be a problem as there may only be one gamer in the household in need of online protection, while increasing speed and customizable performance.
Gamer Online Protection with Enhanced Performance
Not to be infused with parental control software that filters content, McAfee Gamer Security is a software download that allows gamers to enhance their computer performance while stay protected with anti-virus protection.  It's a vital tool in to help players engage safety with fellow gamers.
Will it work on your computer?  If you download the software and are having issues you may request a full refund by contacting McAfee Customer Support within 30 days of initial purchase.
Gamer Security System Requirements
To operate the Gamer Security software you must have Microsoft Windows 10 version 1809 (Oct 2018 update) or later.  If you already have Windows 10 and are unsure of what version is running simply update to the latest version.  It's a good idea anyway to turn on automotive updates for Windows to ensure your systems is always secure.  The hardware needed on your computer is 2 GB RAM | 500 MB free drive space | 1 GHz Processor.  A high-speed internet connection is recommended.
How is it faster? When McAfee did tests of their gamer security software compared to both traditional and built-in AV they found:
A faster boot.
Faster shutdown.
Faster standby suspend.
Faster suspend to hibernate.
---