CyberBullying: A Word for Parents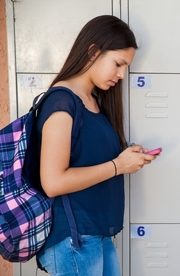 There was a time when bullying was something we all had to endure in school, on the bus, and hanging out with friends. It was always unpleasant. The next generation, our children, have an even worse type of bullying to deal with… and it's so much more common than what we suffered!
About CyberBullying
Remember how frustrating it was in school when somebody was upset and reacted passive aggressively, usually by spreading a rumor? How the victim of a bully (maybe it was you, maybe it was one of your friends) would feel singled out, how hard it was to go to school and deal with the drama.
Your children deal with passive aggressive bullying all the time… because the internet brings out the passive aggressive in almost every young person. From shy kids to the straight forward, outspoken kid… cyberbullying can happen by accident. But as you remember about being the victim of a bully… the wounds never heal.
What's even worse about cyberbullying is this. When a direct conflict among friends is resolved, you can forget and forgive the hurtful things that were said. However, you can never erase them from the internet.
With that in mind, it's important to be very sensitive when talking about cyberbullying with your child. And yes, if your kid is using the internet than you do need to talk about this!
Teaching Your Child How To Not Be a CyberBully
As mentioned before, the internet brings out certain behaviors in young folk. Of course, your child knows not to pick on somebody in person, but do they know not to rant and rave on social media when what they say could unintentionally hurt somebody else?  You may discover they are participating in cyberbullying, even if the catalyst for it is succumbing to peer pressure and following the crowd.
Watch for passive aggressive behaviors, and teach your children to face their problems (directly) rather than taking their frustrations out on others.
If your child is 13 or younger, you should have their social media log in info, and don't share the password with your child. This way, you can easily check in on them and you can also protect your child from being the victim of a "hacker" cyberbully by preventing anyone else from finding out how to log into their account.
Cyberbullying is even more common with older teenagers (age 14-18), especially when they have a smartphone that allows them to post on impulse. Teach them to think before they post, and make sure they understand how important it is to never post anything that could hurt somebody else… or could come back to haunt them.
What To Do If Your Child is the Victim of a CyberBully
Be the parent that a child can feel comfortable talking to if they are being harassed or directly attacked online. Be kind and understanding, and be sensitive to their needs. The rest is really up to you, as a parent.
If the harassment is severe enough, you can involve other authorities (the school or the police.) As you may remember, this could backfire on your child so it shouldn't be your first choice. One needs to evaluate closely determine the immediate and long term effects of the bullying your child is enduring.  If the bullying has started over personal drama, discuss with your child whether or not they should confront the person in real life and come to a resolution. Do not "feed the trolls" or respond to cyberbullying online… bring it back to real world interaction.
To protect your child from becoming the victim of a cyberbully, encourage them to make friends with other children who are kind and respectful. Teach your children that friends who are always "surrounded by drama" can be dangerous… you never know when you'll get sucked into it!
What can a child or teen do to empower themselves against a cyber bully? Have them read our article on CyberBullying: for Kids and Teens.
Bullying in School and on the Playground
While cyberbullying can be much more invasive by allowing bullies to virtually enter your home and harass your child online, we must not forget about traditional bullying in school hallways, the lunchroom, on the playground.
Whether 'on' or offline, parents who know the signs of bullying in their child's behavior can be proactive no matter what form it takes.
Here are the red flags to look for and what to do with aid your bullied child.

This infographic was created by Kids Car Donations, a local car donation