The Fun and Functional: A Guide to Smart Watches Designed for Kids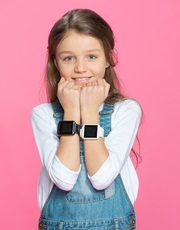 Smart watches aren't just for adults anymore. They've scaled down in size but scaled up in functionality to fit comfortably on your child's wrist. These tech gadgets are more than just cool accessories.
These tech-savvy accessories are designed to be fun and functional, making them kid-friendly while offering peace of mind to parents.  This is why we have developed this comprehensive guide to inform you more about these amazing wearables!
More Than Just a Timepiece: The Innovative Design Features of Kids' Smart Watches
Have you ever wondered what makes your child's smartwatch unique and engaging? It's more than a timepiece. It's a carefully engineered gadget designed with your child's interests, safety, and learning in mind.
Remember when watches were for telling time? Well, those days are far behind us. Today's kids' smart watches are packed with innovative features. From GPS tracking to educational games, all wrapped in a fun, kid-friendly design.
These high-tech devices can offer real-time location tracking, allowing you peace of mind knowing your child's whereabouts. They also provide interactive learning tools, helping your little ones develop essential cognitive skills while having fun. What's more, these watches are built tough. They're designed to withstand the rough and tumble of everyday child's play.
But that's not all. Many smart watches are also designed to encourage physical activity with built-in step counters and fitness challenges. They're like a mini personal trainer, promoting a healthy lifestyle from a young age.
Isn't it time we looked at our children's watches as more than timepieces? As parents, we can harness the power of technology to enrich our children's lives. And with so many innovative design features, smart watches for kids are a great place to start.
Bridging the Gap Between Fun and Functionality: The Interactive Elements in Kids' Smart Watches
These high-tech timepieces are designed to bridge the gap between fun and functionality, offering a host of interactive elements your child will love.
1. Educational Games: Who said learning can't be fun? Today's smart watches have educational games that help your child learn while playing. From puzzles to calculators, these watches offer an engaging way to boost cognitive skills.

2. Fitness Challenges: We all know how vital physical activity is for our children's health, right? So, wouldn't it be great if their watch could encourage them to move? Well, many smart watches do exactly that. They feature fitness challenges and step counters to motivate kids to stay active.

3. Social Connectivity: With a smartwatch, your child can stay connected with friends and family. Kids' smart watches often have messaging features that allow them to exchange messages and photos with approved contacts. All while providing parents with peace of mind.

4. Customization: Your child can express themselves as they wish. Thanks to the many customization features available – from interchangeable straps and watch faces to personalized wallpapers – kids can make their watch their own.
As you can see, kids' smart watches are far from simple time-telling devices. They're interactive, educational, and fun gadgets that cater to your child's needs and interests. So next time you're looking for a gift that combines fun and functionality, consider a smartwatch. It is the perfect blend of learning and play your child needs.
Parental Controls and Privacy: How Smart Watches Are Designed with Parents in Mind
As a parent, one is always thinking about their child's safety and privacy. These concerns extend to the tech gadgets your little ones use. But here's some good news: Kids' smart watches are designed with you – the parent – in mind. Let's explore how:
1. Parental Control Features: Ever wished you could oversee what your child accesses on their device? With kids' smart watches, you can. Many models offer parental control settings, allowing you to judge the usage of the device. Such features are quite beneficial, and a smartwatch isn't really a smartwatch without it.

2. Real-Time Location Tracking: As a parent, there's nothing more reassuring than knowing where your child is, right? That's why many kids' smart watches come equipped with GPS tracking. You can monitor your child's location and even set up 'safe zones' – areas where your child can go. If they step outside these zones, you get alerted. Now, isn't that peace of mind at its best?

3. Data Privacy: Are you concerned about who might access your child's data? You're definitely not alone in this worry. Fortunately, manufacturers of such smart watches understand the importance of data privacy and take it very seriously. They go the extra mile to ensure your child's information remains safe and private. With advanced encryption techniques and secure networks, these smart watches provide additional protection, giving you peace of mind. Rest assured that your child's data is in good hands!

4. Emergency SOS Feature: Imagine your child being able to alert you instantly in an emergency. With the SOS feature on a smart watch, they can. One press of a button, and you'll receive an alert on your phone.

5. Communication Controls: Want to control who your child can call or text from their watch? You got it. Most smart watches allow parents to pre-approve contacts, ensuring your child only communicates with people they trust.
So, as a parent, you're not just a bystander in your child's digital experience – you're an active participant.
Final Thoughts
Kids are our future, and what better way to empower them than by giving them access to the latest technology while keeping them safe and secure? Investing in a kids' smartwatch equips your children with skills to help them thrive in this ever-evolving technology filled world. Plus, there's a great selection of such watches on the market, so you can find something that meets your needs and budget.
From educational games to real-time location tracking, kids' smart watches are helping to bridge the gap between fun and safety. So why not consider gifting one to your child? Not only will they have a blast using it – they'll also get to experience the immense benefits of technology. It's a win-win!