Best Parental Control Apps for iPhone that are Easy to Use 2022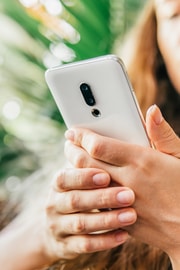 Technology has brought out both the good and bad in society. We can, however, deploy measures to curb the harmful part. As adults, we are afraid of malware attacking our iPhones. For our kids, it's another story altogether.
We can't always control what may lurks around the corner with just one simple click on a seemingly safe website. Others may be following the advice of their friends who just told them about a cool website or page. As a parent, you can equip you computers and smart phones with tools that block access to bad parts of the internet.
To prevent our kids from viewing inappropriate content, or talking to strangers, we need parental control applications. Here are some resources you can research and use to control your kid's iPhone activities.
1: FamiSafe App (Parental Controls Made Simple)

Another powerful app that can monitor your kids remotely is the FamiSafe solution. However, it also provides complete parental controls.  It works on all iPhones, Androids, Kindle Fire and also has desktop software versions for Windows and Mac.
You can sign up for an account and choose the download option you wish use according to your household needs.  Most families have multiple devices with different operating systems and FamiSafe will guide you through the process of setting up parental controls as needed.  From within the app, parents can set different levels of access for each child, including internet search filtering, specific times of day users can access online and screen time control.
After the setup, you will see everything stored on the phone and more. Monitor app downloads and use, block apps you don't want installed, monitor social media activity and what kids are searching for online.  Of course, all harmful content is blocked by default, but when you have a 7 year old and 16 year old in the same household it's important to be able to customize your settings.
As for the dashboard, it's fully compatible with all browsers. That means you can use any internet-enabled device to view your kid's phone activities results.
---
2: Spyic Parental Control App for iPhones (iPhone Monitoring Application)
Are you still wondering what to do with your smart kids on the phone? Well, here is a Spyic application that allows you to keep an eye on their iPhone activities. It's a monitoring software that has won recognition all over the world with millions of downloads.
The reason behind the popularity is that it gets you what you need to see on any iPhone remotely. Another thing, its working mode does not notify the targeted user. That is how your kids will remain in the dark as you remotely see what they are doing.
Spyic works on both iOS and Android phones. When it comes to the Apple devices, it will notify you of everything being done on the phone or tablet. That means you will get to see the calls made, SMSs, contacts, browsing history, live location, social media and more.
You get all these in real-time and without any download, installation, or jailbreak. You only need your kid's iPhone iCloud ID to start monitoring them. The only thing you need to make sure is that the two-step verification is turned off and iCloud syncing on.
Once you have their iCloud details, you can set up Spyic online and go ahead to see what your kids are doing. You will be receiving the results via your established account, which hosts a user-friendly dashboard.
---
3. Covenant Eyes Parental Controls and Accountability
Covenant Eyes is a parental control app and software for iPhone that is marketed to faith based groups.  It focuses on helping families and individuals who have a desire to resist a lifestyle of porn with a focus on faithfulness.  The software company also provides resources and training to live a pron-free lifestyle for teens and adults alike.  Apart from this, the software application looks and behaves like any other parental control program.  It blocks and monitors content for kids and teens, with the added ability for adults to install it and set up one or more accountability partners. 
To further clarify, Covenant Eyes allows parents to protect younger kids from harmful material online.  As kids grow older, restrictions can be lowered but parents can still receive reports and monitor activity as family members learn online responsibility.  For adults struggling with viewing graphic content and online addictions, they install the app on their iPhone or Android with full control.  However, they sign up a friend as an accountability partner to receive reports if explicit websites are visited.  This accountability model can be similar for teens who would set up their parents as accountability partners. 
Alternative Parental Controls for iPhone & other devices:

Learn how to monitor your child's text messages on iPhone and Android without them knowing.
For Safe Search on any mobile device without tracking, download our the free Google Safe Search App, which provides the same filtering as our website.
4: Screen Time Control (Free Basic Monitoring Option)

The Screen Time Parental Control app is another software that you can use to control your kids' iPhone activities. It allows you to block the kids by stating the screen times. It also has small rewards to award your kids when they show good phone-use behavior. It offers a free version with limited controls with the option to upgrade to complete monitoring on iPhone and other devices.
Screen Time also helps in controlling other Apple devices such as the Kindle Fire and Alexa smart speakers. The good thing about this parental control monitoring for iPhone is that it will notify you when your kid tries to install anything. You can also see the most used apps and browsing history.
Every good free parental control software program or app should be judged on the effectiveness of search filtering, app and screen time management, alerts, reports and location tracking. 
---
5: OurPact Parental Control (Free + Premium Features)

The last one on the list is OurPact parental control app that can help you control your kid's iPhone remotely. It will allow you to block apps or unwanted text messages. You can also use it to locate your kid and schedule the screen time throughout the day or even week.
In the location feature, you can also set up Geofencing to prevent your kids from going to unwanted places. Is the kid installing something new? This app will notify you about the new application.
You can later allow or block it. The best part about it is the porn blocker feature. It will enable you to prevent all the adult stuff you don't want the kid to access.
Whether you block websites outright or app installations with questionable content like YouTube, OurPact parental control is another great resource that is helping parents take better control of the internet for online safety.
---
Before you give your son or daughter a phone (or yours), make sure it has one of these apps. That way, you will know everything they are doing.
Kids are often more tech savvy than their parents when it comes to phone use. On the other hand, with the right parental control app for your family you can also stay ahead. You will also know when to limit or restrict the unwanted activities.
About The Author: Aqib Ijaz is a Digital Marketer, Guest Post, and IT Professional. He loves to write on different topics. In free time, he likes to travel and explore the different parts of the world. You can follow him on eyesonsolution.