Best Online Courses to Be a Freelance Writer while Raising Kids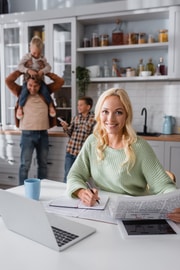 Looking to start a career as a freelance writer? As a parent, balancing your kids with your professional career can get overwhelming. Fortunately, there are thousands of writing courses you can do online. While your kids are watching a movie or at school, you can learn how to become a successful freelance writer!
7 Best Freelance Writing Courses
As a parent, you're continually checking up on your kids. It doesn't matter if they are 5 years old or already teenagers, you always want to make sure they are okay. And sometimes, this makes it harder to commit to starting a new career path or learning new skills, especially if you already have a job. Juggling between work, courses, and kids feel like having 3 full-time jobs.
The good news is that acquiring freelance writing skills is easier than ever with online education. In some cases, you don't even need to connect synchronously and can take the course at your own pace. If you want to know the steps to becoming a writer while raising kids, these are the best freelance writing courses online to keep in mind:
Starting a career as a freelance writer can get extremely challenging when you don´t have the right foundation. You might think that a portfolio and a blog are all it takes, but the reality is that there are some tricks to start getting clients fast and easy.
Udemy offers several writing classes online that are perfect for freelance newbies. And this course is one of the best to get started.
What you will learn:
How to write for blog posts, web copy, white papers, eBooks, and B2B outlets
Identify opportunities for paid writing work (even in unexpected places)
Apply principles of clarity, fluency, and flow to your writing
How to negotiate fair fees for your work
Market your writing practice creatively
The course is entirely asynchronous, so you can do it whenever you want! You get a certificate of completion, downloadable resources, and full-time access.
Cost: $13.99
One of the major struggles working parents experience is juggling going to the office while taking care of their kids. Working from home is the ideal solution, but not all companies are all-in for flexible arrangements. If you want to ditch the office to start a new path as a freelance writer and manage your own schedules, this course is for you.
It is also in Udemy, and it's 100% async – you can do it anywhere and at any time. The course´s primary goal is to teach you how to become a professional freelance writer in just a few weeks.
What you will learn:
How to market your freelance writing business using social media.
Write effective blog posts that win your clients
Pitch for different types of work and clients
How to write press releases and distribute them online
Make your writing SEO friendly
Cost: $14.99
Elna Cain´s Write Your Way to Your 1K is one of the best freelance writing courses online. She shares that what encouraged her to become a successful blogger and freelancer was her need to work from home to raise her twins.
This course not only teaches how to win your first 1K as a writer, but Elna also focuses on teaching writers the importance of mindset and having a strong belief system to succeed.
What you will learn:
How to get paid well for your writing
Learn the tools and strategies you need to attract and retain clients
Know where to find high-paying clients easily
The necessary skills to become a successful freelance writer
Cost: $195 (one time payment) or $75 (per month for 3 months)
One of the best online writing classes that can make you earn a six-digit salary is Earn More Writing by Holly Johnson, a professional blogger, and columnist. In this course, Holly helps writers turn their passion for writing into a high-paying career that can be done regardless of their location and schedule.
You don´t need to land a 9-5 job to earn a six-figure salary. Holly shares how she transformed her writing skills into a profitable and successful career.
What you will learn:
How to discover what clients actually want (how to engage editors)
How to land your first client even when you have zero experience
Land big gigs and negotiate raises
Launch a blog and build your brand
How to invoice clients (and ensure you always get paid)
Cost: $199 (Standard Membership), $399 (Blogger´s Membership Bundle), $475 (Pro Membership Bundle), $599 (Platinum Membership Bundle).
Jorden Roper is a real-life example of someone who built a freelance writing empire with no experience. She introduces herself as a "3-time college dropout who built a $5,000/month freelance writing business about 4 months after getting fired of my crappy full-time job."
This course is all about helping you earn a high monthly income doing what you love: writing. Jorden shares the key steps you can take from having zero clients to writing for major companies.
What you will learn:
How to make solid pitches with no experience
Find reliable clients
All the steps to get your first clients (and land your first $1,000)
Proven cold emailing templates
Cost: $297 (One time payment) or $87 (Per month for 4 months)
If you don't see a course above that you think will work, check out the list of online learning platforms on this post to better understand other options.
Start Your Freelancing Career Right Away!
There are many benefits of working from home. Perhaps you want to be there more for your kids, you want to avoid commuting, or simply because you wish to have a more flexible schedule. By starting a career as a freelance writer, you can do all this while earning a stable and high income. And these 5 courses are the best ones to get you started!
Author: Gabriela is a journalist and the copy editor of Think Remote. She has been writing for online magazines and blogs for more than four years and has discovered her passion for remote work and the digital nomad lifestyle.
Read about the top online courses for kids.