Ideas for Your Classroom's Halloween Party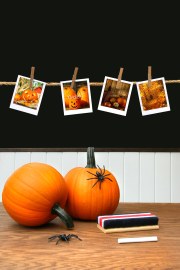 Halloween is the first big holiday kids get to celebrate at school. It gives them an excuse to dress up, eat candy, stay outside late, and have fun in ways they normally can't, like making glow-in-the-dark crafts. If you're hoping to bring all these fun ideas to your classroom, you should throw a Halloween party.
Crazy Crafts
Kids tend to bounce off the walls around the holidays, especially candy-centric ones like Halloween. Give them a way to creatively express themselves and get some of that energy out with Halloween glow-in-the-dark art projects. You can tailor these art projects so that they're perfect for kids at any age level. That way, if your classroom involves children of different ages or stages of development, they can all feel included.
Glow-in-the-dark rock eyeballs are one of the best options for kids of all ages. This project is also a great way to encourage natural play environments for children. You can have your students collect the rocks or bring a bucket yourself and let them paint the eyes and draw the veins.  Younger children will find it easier to paint large rocks that can lay flat on a table, while older children may prefer small rocks that they can easily take home in their backpacks and show off.
Cauldron Toss
For a more physical way to help kids expel their energy, try a cauldron toss. You're the witch or wizard leading the classroom and can set up your big black cauldron wherever you want. Place a piece of tape on the floor to make a fair starting line, and then pass out whatever elements you need to add to your brew.
Plastic pumpkins are a fun, light option that younger children can easily toss, while rubber spiders are a better option for older children. You can give points or prizes to kids who make their shot or just have fun. Depending on the size of your cauldron, this game can go for multiple rounds with multiple ingredients, or each child can have one turn.
Costume Parade
For many young kids, Halloween is the ultimate time of self-expression. They get to choose a costume that displays their interests, like their favorite character from a book, and show off that interest when they go trick-or-treating. But since the kids in your classroom probably live in different areas, they may not get to show off their costumes to their school friends. This means you have the perfect excuse to host a costume parade at your Halloween party.
Tell kids to wear their costumes to school if they meet the dress code or bring them to change into right before the parade. Split the class into sections so that most of the class can watch while one of the sections makes their way around the classroom, showing off their costume. If possible, you can also invite family members who will love getting to see their little ones strut around with pride in their costumes.
Some of our favorite ideas for your classroom's Halloween party are crazy crafts, games, and a costume parade. These suggestions give your students the opportunity to safely enjoy this fall holiday and make fun memories in your classroom.
Additional Articles Related to Halloween
Explore these cute and fun halloween costume ideas for kids
Teach your students about the history of halloween