The Flipped Classroom | Using Video and AI To Improve Student Experience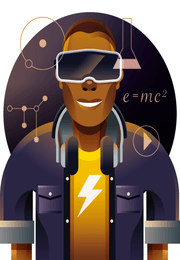 Think back to the popularity of Smart Board use in the classroom. Technology provides a way to show students a wider range of opportunities. Today, 86% of educators – including teachers, principals, and more – believe students need to enhance their tech knowledge, and learn video capturing skills to succeed in order to succeed in their future workplace.
Why so? Using video maximizes classroom time. Education institutions have reported some interesting numbers, documenting that 91% of students experience satisfaction when learning by video. Not only is the student more satisfied, but their achievements improve by 82%, as well.
Benefits of The Flipped Classroom
A flipped classroom flips the traditional approach to learning and it results in reapable benefits.  With flipped focus, students learn new content outside of class, through video and tech. A flipped classroom proves beneficial because the focus is 80% student-centered, and students discuss and explore applications in-class.
On the other hand, traditional teaching only centers 35% of instruction on the student. Teachers review homework and present new content in class, while students are left to do homework and practice what they've learned after school hours have concluded.
The benefits of a flipped classroom are endless. Primarily, a flipped classroom increases student engagement, allows learning to be more collaborative, and guides students to self-discovery.
Of course, there are challenges in any instance. Pointing this out, a flipped classroom can easily become active, noisy, and distracting for those who struggle to work in the aforementioned conditions.
Furthermore, flipped instruction must be strategically executed for reapable benefits to be available as students may have trouble focusing in a flipped learning environment.
Use of Artificial Intelligence
In order to improve the educational experience on behalf of the student, more artificial intelligence will be implemented into the classroom. The same goes for embracing new technologies for learning, such as virtual reality.  Educators are also using chatbots to provide self-paced learning for the student, track performance, provide immediate feedback, score assignments and tests, and communicate with parents. And AI tools are also being used to provide voice overs for explainer videos.
The future of education is becoming as technologized as every other industry. From 2014 to 2019, educators increased their use of video for capturing campus events, flipped instruction, providing assignment feedback, and many more tasks. Even so, 98% of educators believe video will play an important role in the personalization of education, and 89% are interested in VR/AR/360 video.
Today, 9 in 10 educators are interested in the benefits of tech to improve the learning experience for students, both inside and outside of the classoom. To learn more about how education will look for future generations, check out the accompanying graphic.  It explores the use of AI and Video, as well as the benefits and drawbacks of the flipped classroom.

Additional Resources:
Learn about the top 4 real-world applications of predictive analytics.