Gen Z Students Reshaping College & Job Economy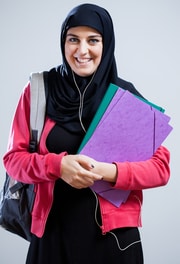 It's an interesting time to be a student in America. The action behind asking our children, "What do you want to be when you grow up?" may have more influence than we know. Turns out, Gen Z – those born from 1995 to 2012 – is obsessed with learning. In fact, it's common for Gen Z students to spend their extra free time on homework and volunteering.
Today, the typical Gen Z student dedicates 6.48 hours per work to homework and 2.66 hours per work to volunteering. Due to a plethora of similar habits, Gen Z is on course to become the most educated and most entrepreneurial generation.
Yet, nearly 9 in 10 Gen Z college grads considered job availability before selecting a major. With unemployment at its lowest since 1969 – three generations before Gen Z's time – why is our youngest generation alive so curious about their future employability?
To put it lightly, they're ahead of the game.
Rising student debt has made Gen Z wary, and most want to know they'll be getting their money's worth before researching and enrolling into college. Schools are getting involved, as well, encouraging students to take Advanced Planet (AP), dual credit, and the International Baccalaureate (IB) Diploma Program courses and exams. Today, nearly half of Gen Z high school students have already earned college credits.
Don't fret- students are curious, not worried. 2 in 3 Gen Z students are confident they'll receive a job offer soon after graduation. For some majors, it's even higher. Even more, 60% of our youngest generation on the planet impressively plans to start a business one day, and 92% expect to work for less than six employees in their lifetime – Gen Z doesn't even bother with summer gigs.
Most teens prioritize studying to earn future scholarships over working a job. This is the main way Gen Z is reshaping how we "do" college as a society. Nearly half of American workers are living on less than $18,000 a year, and Gen Z is privy to this, so 82% think college is the way to get there. In the meantime to graduating high school, most are most focused on earning grants and receiving financial aid to afford college.
Interestingly enough, one in three 15-year-olds plan to pursue one of the top 10 most popular occupations, regardless of whether or not their desired career will still be in-demand by the time they'll be eligible for hire. Gen Z is ahead of its time – it's all about employment for them. As we witness our very own children reshape the college years, continue to ask them, "What do you want to be when you grow up?"

Read how Industry 4.0 will impact students.