Learn More about LEGO
Amazingly, if you know someone more than 90 years old, they may have played with LEGO as a child.  Kids and adults have been enthralled with LEGO bricks since 1934, and throughout the decades those modest plastic construction blocks have evolved into a global phenomenon.  It's crossed generations of people, nations, and traditions.
So, let's take a journey back in time and explore Lego's past and present, the fascinating patterns and creative possibilities, that make it just as exciting today as it was over nine decades ago.
The History of LEGO
Our Lego blog starts with the history of LEGO. Those little bricks, toys made of plastic blocks, that became extremely popular in the mid-20th century. It's one of the most successful game brands in the history of marketing.
Since its conception in a modest workshop in the small Danish town of Billund, LEGO has expanded greatly. Carpenter and joiner Ole Kirk Christiansen began making quality wooden toys in 1932, they named their company after the Danish phrase "leg godt", which means play well.  Kirk didn't recognize that the word lego also referred to the Latin phrase legomihi, which meant 'I assembled it'.  Ole's son Godtfred Kirk Christiansen began to design wooden toys at the age of 17.  He later patented the plastic block of LEGO in 1958 and as a result, he revolutionized the way children play.
LEGO Themes and Product Lines
The conventional LEGO tick sets form the foundation of the poggers world. These kits include a wide range of colored blocks in a variety of sizes and forms, inviting builders to develop anything their minds can think up.
In 1987, LEGO introduced branding that identified a set as part of a theme, as well as sub-themes within these locations. The business also created product lines like Technic and Fabuland that employed parts that were not part of the conventional system.
Many other themes have been released and cancelled since then, including the addition of licensed themes such as Star Wars in 1999.  Store-exclusive sets, one-off licensed sets, and the most sophisticated building sets created before the advent of Creator Expert, are not necessarily part of any official theme.
LEGO Creative Potential
LEGO robotics has grown in popularity in recent years. This is hardly surprising given that playing with LEGO has helped generations of youngsters develop their creativity, critical thinking, and spatial abilities for decades. Because of the rapid advances in current technology, robots have become a crucial component for a wide range of businesses, including manufacturing and logistics
LEGO Robotics Encourages Children's Creativity
To begin, robotics encourage children to explore various constructions, forms, and ideas, allowing them to think outside the box by devising diverse solutions to the same problem.
Learning to Work in a Group
Kids are provided with the opportunity to create individual LEGO robots that can handle various circumstances, which encourages them to collaborate with their classmates to reach a shared objective.
In summary, these LEGO robotics have shown to be an engaging and enjoyable way for children to develop their intellectual and creative potential.
II. LEGO Themes and Product Lines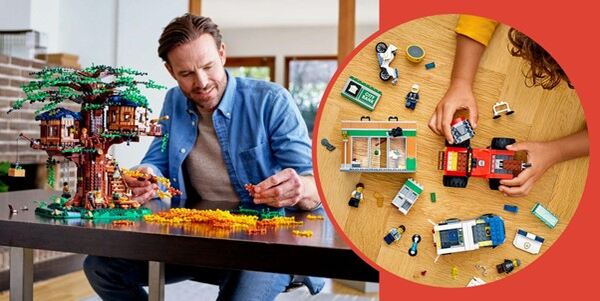 In 1947, LEGO introduced its first plastic toys, but it wasn't until 1958 that the now-iconic interlocking brick system was patented. This innovative design allowed for endless combinations and possibilities, setting the foundation for the limitless creativity that LEGO is known for today.
Classic LEGO Bricks
The classic LEGO brick sets are the foundation of the poggers universe. These sets include an assortment of colorful bricks in various shapes and sizes, encouraging builders to create anything their imagination can conjure up.
Technic
Introduced in 1977, LEGO Technic sets are designed for older children and adults who seek more complex and realistic builds. Technic sets feature mechanical components such as gears, axles, and motors, enabling builders to create intricate machines and vehicles that actually move and function.
Mindstorms
LEGO Mindstorms revolutionized the world of LEGO by introducing programmable robotics. These sets allow users to build, program, and control their own robots using LEGO bricks, as well as motors, sensors, and a programmable "intelligent brick" called the EV3.
Licensed Themes
LEGO has partnered with numerous popular franchises, such as Star Wars, Harry Potter, Marvel, and DC Comics, to create themed sets that bring beloved characters and stories to life in brick form.
LEGO Architecture
LEGO Architecture sets are designed for those who appreciate the beauty and intricacy of world-famous landmarks. These sets recreate iconic buildings such as the Eiffel Tower, the Sydney Opera House, and the Empire State Building, capturing their architectural essence in stunning detail.
II. Building Techniques and Tips
SNOT (Studs Not on Top)
One of the most popular advanced building techniques is SNOT, which involves constructing with LEGO bricks in orientations other than the traditional "studs on top" method. This allows for more intricate and realistic models, as builders can achieve smoother surfaces, unusual angles, and unique shapes.
MOCs (My Own Creations)
Many enthusiasts love creating their own original designs, known as MOCs. These custom models showcase the builder's creativity and ingenuity, often featuring intricate details and unconventional techniques.
Sorting and Organizing
A key aspect of LEGO building is keeping your bricks organized. Proper sorting and storage can greatly enhance your building experience by making it easier to find the pieces you need when you need them.
III. The LEGO Community
LEGO Conventions and Events
Conventions and events bring together fans from around the world to share their passion for the brick. These gatherings often feature impressive displays, workshops, and guest speakers, providing an opportunity for builders to learn from one another and be inspired.
Online Communities
LEGO fans can connect with like-minded enthusiasts through online forums, social media groups, and websites dedicated to sharing LEGO creations and news. Websites like Brickset, Eurobricks, and The Brothers Brick serve as hubs for LEGO enthusiasts to share their MOCs, discuss building techniques, and stay up-to-date on the latest LEGO news.
LEGO Ideas
This is platform where fans can submit their own original set designs for consideration. If a project gains enough support from the community, it may be turned into an official LEGO set, with the original creator receiving a percentage of the sales.
IV. The Educational Impact of LEGO
STEM Learning
LEGO is a powerful tool for teaching Science, Technology, Engineering, and Mathematics (STEM) concepts. By engaging in hands-on building and problem-solving, children develop critical thinking, creativity, and spatial awareness skills, all essential for success in the 21st-century workforce.
LEGO in the Classroom
Educators around the world incorporate LEGO into their curriculum to support learning across various subjects, from mathematics and engineering to language arts and history. LEGO Education offers specialized sets and resources designed specifically for classroom use.
FIRST LEGO League
This is an international robotics competition that encourages children to engage in STEM learning through a hands-on, collaborative, and fun approach. Teams design, build, and program robots using LEGO Mindstorms technology to complete a series of challenges.
V. The Future of LEGO
Sustainable Materials
LEGO is committed to reducing its environmental impact and has set ambitious goals to achieve 100% sustainable packaging by 2025 and transition to sustainable materials in its core products by 2030. The company has already introduced plant-based plastic elements made from sugarcane, taking a significant step towards sustainability.
Digital Integration
The LEGO Hidden Side and LEGO Super Mario sets are excellent examples of how the company combines traditional building with interactive digital play, creating an engaging and immersive experience.  The company is continuously exploring new ways to integrate digital technology with its physical products.
Conclusion
From its humble beginnings in a small Danish workshop to the worldwide phenomenon it is today, LEGO has captured the hearts and minds of millions. It's a world that offers endless possibilities for creativity, learning, and enjoyment – including Edutainment, where Education and Entertainment work together for learning.  In all these areas impact of this ingenious toy will continue to inspire generations to come.
So grab a handful of bricks, and let your imagination run wild as you explore the vast and incredible universe that is LEGO.