The School Comes First: Changing Your Neighborhood for Education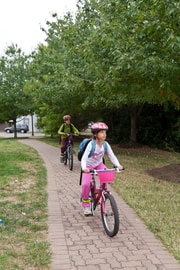 When looking into moving homes, we observe multiple aspects in choosing which neighborhood we want to move our families. There is price, distance, housing quality, and other characteristics that ultimately decide which place we are most comfortable in picking. But perhaps no factor is more important than the neighborhood's school district.
There is ongoing change happening around our country, along with diversification programs that are thankfully gathering more momentum within multiple sectors. With the transformation of neighborhoods due to population growth, school district funding can change based on numerous local, state, and national factors.
However, planning out your family's future school district isn't as simple as statistics on a page.  You don't have to be a school administrator or a real estate appraiser to educate yourself with this helpful information. Looking into both the way public school districts are funded and the particular school district you have in mind will help ensure that your children have successful educational futures.
Public School Districts
A properly funded and well maintained public school system is what to look for when examining your children's future school district. First, we'll be making a clear distinction between private and public schools and observing the latter when it comes to school districts. With private schools, a parent pays a clear tuition fee that the private school operator collects.
Public schools, by comparison, are regulated by local, state, and federal law. Thus, they are operated from a mixture of locally-, state-, and federally-collected and distributed funding. Less than ten percent of total funds come from the federal level (through Title I and other means), with the majority coming from locally- and state-collected funds. About half of these total funds come from local property taxes.
Funding must then be circulated into individual districts. They can then hire appropriate staff, purchase necessary equipment and supplies, and maintain their operating structure (and, if able within their funding, construct new additions to their schools). These days, choosing a new school for your kids has a lot to do with school funding is about distribution, and if a community is progressively or regressively allocating its funding to the students who need it the most.
Progressive School Funding
What does it mean, then, to classify a public school district as "progressive?" Well, there are a few indicating characteristics. An Urban Institute study in 2017 found that there are 35 states–70 percent of the country–that specifically target low-income students with public school funding. New Jersey and Connecticut are examples of states that have progressive funding systems in place at the state level–though this can sometimes result in problems at the local funding level regarding income disparity. When this occurs, states will attempt to correct public school funding that it believes is inequitable.
In particular, New Jersey makes up for this by balancing its local and state public school funding, making it progressive to the amount of $1,453 per student. States differ in terms of progressive vs. regressive public school funding due to economic disparity, as well as differences in legislation. No matter which area you're moving to, it's essential to be aware of how your school district is funded on the state and local levels.
Tips for Changing Your School District
We've examined the overall way that school districts are funded these days. Still, careful research into your move itself is vital to ensure a comfortable adjustment for your children. It's essential first to look into a few tips crucial to making the moving process, and changing school districts, an easier one.
You'll want to be aware of any waiting periods to enroll your child in a certain district's public school. You'll also need to ensure that you have your children's immunization records and medical forms on file, which is more necessary these days than ever before. Look into extracurricular activities such as virtual creative groups, which will help your child expand their new community of friends.
Additionally, email your child's future guidance counselor about this recent move, and how it (as well as changing schools) may be taking up a large degree of their mental space. This will inform them and make them aware of a possible situation where your child finds it difficult to adapt to the new experience.
But more than anything, it's vital to take a look into the individual districts in terms of teaching, subject proficiency, transportation management, funding allocation, and other informational aspects to determine for yourself how you view its quality of schooling. We've discussed public school funding and its distribution, but that's only part of the equation.
Schools may rank highly in math proficiency, for example, when compared to the state average. (New Jersey's math proficiency is 42 percent, for example, while its top five schools in this category all rank at 95 percent or higher.) However, if your child has special needs or is seeking a program that focuses on foreign language immersion, these rankings may not be as useful to you.
Instead, while looking at additional factors during your future school district search, take the time to ask yourself some questions:
What is this school district's subject proficiency in the topics I want my child to excel in?
What is this school district's graduation rate?
Which school districts per state have the highest spending per student, and how is it allocated?
Which school districts have the lowest teacher to student ratio?
Also, as an extra tip: make sure your child knows about cyberbullying, which unfortunately arises from time to time during their use of online educational tools. It's important to have them understand both which behaviors to avoid, and what to do if they find themselves victims of cyberbullying.
As parents, we naturally want the best for our children. Moving is never easy and choosing the best neighborhood for our family can be a monumental task that takes dedicated planning. With knowledge of the public school system and having a few tips on hand for the move, you can do your part in researching the district of your future neighborhood and setting your child on the right path for their educational future.

About the Author
Jennifer Walker is a freelance writer, blogger, dog-enthusiast, and avid beach goer operating out of Southern New Jersey.