The Ideal Property for Raising a Happy Family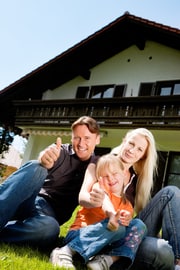 When you are looking to raise a happy family, you automatically need a property that can handle the demands of life with children. For many, an ideal home would be one with a big backyard for children to play, in a location where children can walk to school, and one that is near amenities such as a hospital or park.
While the thought of finding such a perfect family home is exciting, it is a challenging endeavor. If you are confronted with this dilemma, here are tips that you can leverage to find a family-friendly property:
1. Security
When house hunting, the safety of your family needs to be at the top of your mind. You are likely to find more affordable homes in neighborhoods that are more volatile.
It is vital to perform thorough research on the area that you wish to settle.
This ensures you provide a safe place for your family to live a happy and healthy life. It's best to check what safety measures are in place in your prospective area; things to consider are their neighborhood watch programs, nearby police stations, etc.
Lastly, you can also ask your future neighbors for information regarding that area. This will ensure you have a complete picture before taking the plunge in purchasing your dream home.
2. Work with a real estate company or home builder
It is essential to be flexible in looking to buy established real estate. There will always be some compromise. Connecting with a knowledgeable real estate agent can be a great first step, as they can assist you in finding your dream home. While your mind may be fixated on the number of bedrooms or the square footage, a real estate agent knows what issues to check on a property, such as mold, insect infestation, roofing issues, furnace problems, and leaks. This can help save you thousands of dollars.
Alternatively, if you want to ensure you get everything you are after in a dream home. You could consider a new home build. There are a myriad of builders who can assist you in building a new home. A great place to start is researching online, utilizing platforms such as Lotmix's – house and land platform they can help you find the perfect builder. You may be surprised to find it is more affordable to start from scratch than to buy established!
3. Location near school and amenities

You can change the look and feel of a property, but there is nothing that you can do about its location!
When looking for a home, location is one of the significant considerations that you have to consider, particularly when you have young children.
An ideal location for a family home will take additional research to ensure it is near a quality school where you wish to take your children. If security is not an issue in your new neighborhood yours may even be able to walk to school.  At the very least your won't have to struggle with a daily long commute.
Another factor to consider is whether or not your home is close enough to vital services, such as medical practices and hospitals. Use search tools like the eXp property search website to find a desireable property near the amenties you desire.
4. The house itself
In case you are not looking to build a new house, that means that you may be in search of an already built property. A house in poor condition can break the deal no matter how great its location. It would help if you got someone to inspect the home to find any critical defects.
Another thing to consider is the size of the lot. If you are buying a house that may need some work, it's always best to keep the option open to potentially demolishing it in the future. You never know when your desires and needs in a home may change.
Checking what is and what isn't allowed on a property is essential before making your big purchase—heritage overlays, for example, may prevent you from demolishing the house may be a deal-breaker.
Conclusion
Even after you have found a place and given your offer, you should continue looking for other places as you wait for a seller to accept your offer, as new properties are coming up for sale every day. Balancing work and family also has a lot to do with how far your job will be from your new home.  Often, the farther you live from work the less you will pay for your property.
A Longer commute means less time at home during the week.  As your kids get older, they will be facing the same issues when they find their first job as a teen or they decide to live at home while going to college. This means you may want to being those discussions about college with your kids sooner than later.  Remember to be open to making a few compromises along the way as you decide where to settle down.