Woodworking Projects and Ideas for Kids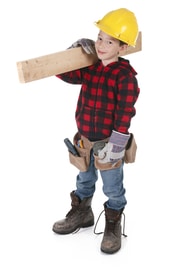 Encouraging imagination is important for kids' mental growth, especially nowadays where information and entertainment are spoon-feed over screens. One of the fun ways to put our kids' imagination into practice is through woodworking projects. It's a balance between creativity and cognitive skills, plus kids are able to create something unique and personal.
Whether for home schooling or working on group projects in a school classroom, these ideas will challenge kids to stretch their brains as they think about making something original using mostly wooden objects. Kids may also be encouraged to search for wooden objects that could possibly work for their woodworking projects ideas.
Train and Tracks
We know how young kids love to play with trains – and this one is super easy to make. All you need are three wooden boxes, a wooden spool, and six pasta wagon wheels. But before going ahead with the assembly, let your little ones have a little fun with paint and ask them to color the blocks.
Once the blocks are nice and dry, use wood glue to attach the pieces together. Glue on the wooden spool to be the train engines smokestack. For the tracks, popsicle sticks on a piece of cardboard would do the trick!
Personalized Boxes
Adult supervision may still be needed for some easy wood projects for kids, especially those that require power tools.
If your little one wants to create a box for storing crayons, marbles, or any other personal items, he may need your hand in building one.
The box can be any size he wants – wider, taller, smaller, bigger. The lid could be sliding too. Kids would need wood, a pencil, tape measure, sandpaper, hand drill and assorted bits, speed square, and a saw for cutting the wood into the right pieces. If you want it to be simpler, you can also use wood glue to attach the pieces together.
Play Tent
Kids absolutely love the idea of building forts in the backyard. Like many woodworking projects, although larger than the previous ones, this one is a breeze to create. Built in just 10 minutes or less, your kids will be playing with their toys or reading books under the tent in no time!
You'd need four long pieces of wood (about 42" each), a long dowel piece, fabric, and drill. Note that the drill bit should match the dowel size for a secure fit. All it takes is drilling a hole on each end of the wood, inserting the dowel, attaching the fabric, and the tent is complete!
Robot Buddy
It's more like creating a friend than just a simple wooden toy. For this project, you'd need an assortment of wooden blocks, heavy-duty string, wood glue, drill, and a wood burning pen.
Before you drill in the holes, make sure it's a perfect match for the string size. The string should fit snugly inside.
Drill one hole in the head block and one in each limb block. The body block needs two holes on the side and two holes on the bottom, one for each hand and foot. Once the holes are ready, fill them with glue and stick in the strings using a nail.
Assembly takes a few minutes as you have to let the glue dry as well. Don't forget carving the eyes and mouth with the woodburning pen. After that, your kid will now enjoy the companion of his robot buddy.
Benefits of Woodworking For Kids
Woodworking is a great physical activity. It will bring some benefits that go beyond the physical of kids.
Develop good skills creativity
Teaching patience
Help with mature emotional and communication
Kids' woodworking projects are some exciting projects and easy to do. Also, if you spend time working out with kids on wood projects, they will get develop skills better with time. Eventually, they can do projects without any help.