How to Protect Your Photos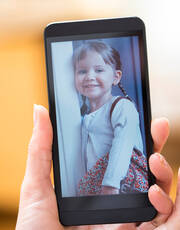 Photos hold sentimental value and memories, and losing them can be devastating. The loss can happen due to device failure, accidentally deleting the files, natural disasters, technical malfunctions, and even leaving a social media like Facebook or Instagram.
Fortunately, with technology, you can now protect your pictures by making copies of them so that when one gets lost or damaged, you can always recover it. Below are ways to protect your photos from loss or damage so you can recover them on demand and learn to better manage your images.
1. Cloud Backup
Cloud backup is one of the most reliable digital ways to store and protect your photos. Thanks to technology, you can now access your photos and videos online, anywhere, as long as you have an internet connection. Depending on your preference and budget, you can choose between the various cloud service options, including Google Photos, DropBox, and iCloud.
Google Photos mobile app is your best option as it offers free storage and backs up your photos at high resolution. You also get access to unlimited storage. Once you back up your pictures, you can free up storage space on your device by removing the already backup media. Check out cloud services' various offerings and pricing and select the one that suits you the most.
2. Local Backup
If you are in a place without internet connectivity, it can be challenging to access and retrieve your pictures from the cloud. Local backup means you don't have to use the internet to access or retrieve your pictures and photos. It uses local storage options such as flash drives, discs, hard drives, tapes, and external hard drives to store your files. You can then keep the device anywhere you deem safe. Also, you will always know where your photos are, whether in your safe or your friend's house.
Although using local backup storage options to store your pictures is inexpensive, you must be careful about who has access to it. It is also vulnerable to damage and natural disasters, which requires extra care when choosing how to keep the storage devices. Since it can be hard to remember to back up your photos, automate the process with the help of software to avoid forgetting.
3. Printed Albums
Like most people, you probably do not fancy the idea of printing out your pictures into physical copies. However, it is an excellent way to protect your photos from loss due to hacking, deletion, or hardware problems that can affect your storage devices. Printing out the pictures and compiling them into a photo album allows you to display your most treasured memories.
You can print the photos at home with a printer or take them to a printing shop for the best results. Only choose your best pictures if you go this route, as printing your entire collection can quickly become expensive. Since printed photos can easily become damaged if not handled carefully, below are tips to ensure their safety:
Protect them from sunlight, humidity, and extreme temperatures
Avoid touching your photos with dirt and oil
Consider sealing your printed photos
Choose high-quality printing services that use quality ink and printing material.
Keep the photo prints in a box or frame
Don't forget to backup your pictures before printing in case your house suffers a disaster like a flood or fire.
When protecting your photos, turning to technologies like the cloud, local storage devices, and external hard drives can help you keep them safe. By choosing the right and most secure options, you can easily manage your photos in storage and access them at any time.