Here's How To Share Old Family Photos Safely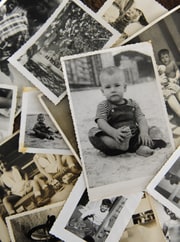 Old family photos are not like any other photos you own. Not only that it signifies your family ties, history, and heritage, it bears personal value to you and your family members. Photos share stories and carry deep emotions that words can't describe.
These photos serve as a remembrance to a family member you lose and a great way to share and pass around fond memories with the younger generations.
We share family photos for a variety of reasons. For one, it's our way of maintaining relationships with our loved ones. Or, it may be to celebrate a special occasion like Father's Day or to simply strengthen our relationships with distant friends through social media.  Sharing family photos lets the people we love know that we value the relationship, and photo sharing expresses our desire to nurture it.
But in order to preserve your family's legacy, sharing your old family photos with friends and other family members needs to be safe and secure.
Ways of Sharing Family Photos
There are tons of ways to share these photos online, but their security and safety may be in question. The security and safety of the images we share have become a problem when technology makes it convenient and fast but poses a significant risk because of privacy and security issues.
Photos (especially digital ones) provide a lot of information such as location, date, and time. And if these pieces of information are accessed by others outside your circle of friends and family, they can be manipulated and used to harm you and your family as a whole.
There are two methods of sharing photos: digital or online photo sharing through social media, cloud-based softwares, and other online applications, and the "old school" printed images.
While both of these methods are great, you need to establish effective ways to ensure that you are safely sharing your precious family photos.
Digital Photo Sharing
Sharing photos online takes only a few clicks and taps on your digital device, but as much as they offer convenience and digital storage, they are not as secure. Though this may be the case, there are ways you can minimize the risks of privacy breaches on the photos you share by taking the following safety measures.
Social Media
The most common mistake of social media sharing is that people tend to get too comfortable with sharing everything without realizing that other people are not on social media to socialize. Facebook, Instagram, Twitter, and other social media sites have become a hub of scammers and hackers whose purpose is to trick people into giving out information they can use for their own agenda.
Explore Privacy Settings
When sharing photos on social media such as Facebook, read and understand the privacy settings before you share. This might sound tedious, but these privacy settings are created to ensure you understand how a specific platform uses stores and access all information you share within that platform.
Privacy settings allow you to choose the audience you want to access and view the photo you share. You can restrict specific people or groups of people by making a selection in the privacy settings dropdown.
Beware of Red flags
The red flags in social media have become sophisticated over time. You can almost never tell who the person you are communicating to because of hackers and scammers who pose to be someone else to get your information.
Confirm the person's identity by contacting the person through other means like texts, email, or by calling them. This will ensure that the person asking you to share a photo is really the person you know and trust.
Another red flag to look out for is when you receive a new friend request from a person who claims to be one of your family members. In some cases, they could be someone else entirely. Withhold sharing photos with someone you have not established trust and whose identity you have not confirmed yet.
Cloud-based Photo Sharing Software
A more private way of sharing photos online is through cloud-based photo-sharing softwares such as Google Drive, Onedrive, and Dropbox, to name a few. Sharing photos through these platforms are completed through user-to-user sharing or through a sharable link.
Confirm Email Address
In this method of sharing photos, whether through user-based sharing or a sharable link, you need the person's email address to complete the sharing process. Though email addresses are private, it is hackable. Taking extra precautions by calling or texting the owner couldn't hurt to ensure your photos are not compromised.
Instant Messaging App
Unlike the examples listed above, instant messaging apps like Messenger, Whatsapp, and telegram also allow users to send and share photos but are more geared toward sending individual photos than sharing bulk images through the cloud. These apps are also hackable; hence taking the extra step mentioned above to protect your photos is highly advisable.
Sharing Physical Photo Print
If you want to avoid the risk of digital photo sharing entirely, sharing old family photos as physical photo prints is the best way to go. It gives an intimate, ethereal sense in a tangible way that allows family members to display old family photos on their office desks or display a large wall portrait in their living room or bedroom.
You can choose to share individual printed photos, framed portraits, or an album of photo compilation.
Granted that physical photo prints accompany the cost of printing, the end result of a timeless display of family heritage that you can pass along to your family members will last throughout the years (with the right amount of care). Besides, without the risk of these treasured photos getting into the hands of the wrong people is worth every penny.
Final Thoughts
However you want to share your old family photos, whether through digital means or old school photo prints, the importance of making sure that they are safely shared with family members, and friends cannot be undermined. Following the safety precautions above will significantly lower the odds of compromising the memory and legacy that your old family photos represent.