Google for Kids, powered by SafeSearch
Safe Search Kids is a custom search engine using Google's SafeSearch features with additional filtering added to block potentially harmful material.
Our search filtering tools provide a way for kids at home and in schools to research the internet more safely thanks to strict filtered results using any browser. For additional safety, read about Parental Control Software.
Safe Search Kids is not Google. We are not directly endorsed by them. Our affiliation with Google is strictly as a third party participating in their Custom Search Engine program. That said, it's important to know how Google works for those times your kids may not be using this website.
You can control your search results on google.com through the Google Preferences page.
How to Ensure Google SafeSearch filtering is ON within any Browser:
The image to the left shows the option available on Google.com after a search is conducted.
1. Conduct a search for any term.
2. Select "Search settings" by clicking the gear icon in the top right corner of Google's search results page.
3. You will then see the option to turn on safe search and save your settings. (see image below)
Screen Shot of How to Turn on Safe Filtering Settings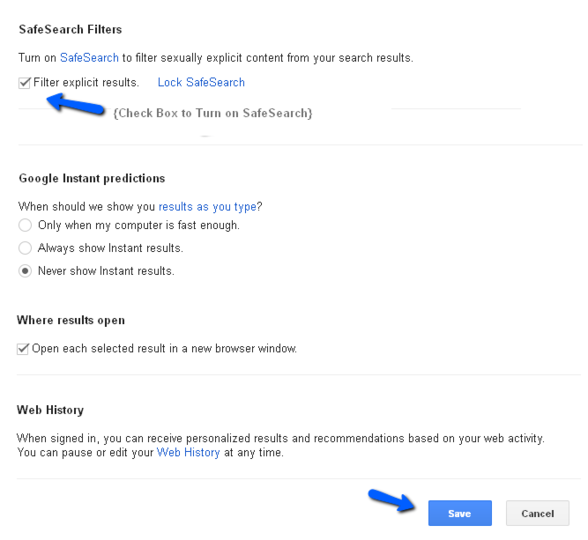 After you have saved your selection, safe search is now implemented within your current browser when using Google.com. As easily as SafeSearch was turned on, it can be turned off. See the video below to Lock SafeSearch using your Google account. This will prevent anyone from turning the strict filtering feature off.
With that said, the easy way to activate Google for Kids with safe search is to bookmark this website for kids at home and in school.
Safe Search is always ON via the search box on the top of any page on this website. Our kids logo appears on the top of every search results page, so you know it's working.
Internet Safety to Help Protect Kids Online
Do not allow computers or laptops in the room of kids or teens. Computer should be in an open area of the home.
Do not allow computer use when supervising adults are not at home. Restrict the use of computers at night after supervising adults have gone to bed.
Restrict the use of smart phones and tablets to open areas of the home. If an agreement between the child and parent has been made about the use of these devices in their bedrooms, implement strict guidelines about keeping the door open and restrict use after parents have gone to bed.
Educate yourself on social media safety and the risks associated with it. Read our articles geared toward both parents and for teens.
Keep the lines of communication open at all times to discuss the various aspects of internet safety and the use of Google for kids. Be open to learn and work together on agreed upon guidelines.
Locking Google SafeSearch – How To and Why
To lock safe search, you will need a Google account. Simply use your gmail address. The video below shows you how to lock Google Kids with safe search on your computer. Locking Google SafeSearch via this method will prevent users, such as kids and teens, from deactivating safe search filtering while using Google's main search page at google.com.
You do not need to do any of these steps to lock safe search on our website. It is automatically active within our search tools on the top if each page.
How Google SafeSearch for Kids Works
As we stated above, you can set Google safe search on any browser. However, there are more steps involved. Manual implementation of safe filtering means that you should also lock the feature using a Google account if you do not want it turned off.
There is also a risk of Google search filtering inadvertently being turned off by accident. If you have a classroom of students or a number of computers in your home, you will need to lock safe search on every computer individually, as well as on every browser that may be accessed by each individual user.
The solution to easy activation of safe search is to use our Google filtering tools at the top of our website. SafeSearch is locked for every search term and there is no way to turn it off. You may be thinking – "Can't kids just go to google.com and search from their site"? It's true, but we are not proposing Google Search for Kids as a replacement for computer software with parental controls on your computer. For that, you will need to consider internet filtering software.
This site is to be used in conjunction with common sense supervision of kids. The younger the child, the more safe guards you will want to put in place to protect them against harmful material online. The older they get, the more responsibility you will entrust to them within reason.
Regardless of the age, parents and educators providing resources for safe search in schools agree there should always be some form of strict safe guards in place. Internet safety is also about building values for healthy life long behavior online within a secure learning environment.
Internet Safety Strategies: Here are are few of our articles that deal with internet safety for everyone concerned, including kids themselves, parents and teachers:
Internet Filtering Software vs Google SafeSearch
Safe Search for Kids, as featured on this site, can only go so far in blocking content. It is a great tool when you make this site your homepage when searching Google, especially in school setting with multiple computers.
For additional safety, consider internet filtering software with parental controls to block specific content and teach accountability.
Together, we can work towards a more safe and secure online environment for our kids using Google safe resources and common sense values.