How to Ensure Internet Safety for Kids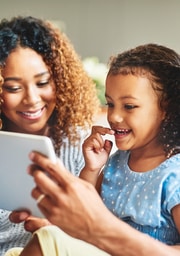 Almost everyone owns an electronic gadget, and the internet has become part of our daily life. While the internet furnishes us with a wealth of information and convenience, it can be a liability, especially to children. Some reports say that approximately 34% of kids have experienced cyberbullying online!
Because of these startling stats, it's never been more important for every parent to ensure internet safety for kids. Fortunately, there are different ways of safeguard your child's internet safety.
Below are tips on how to protect your kid on the internet, including a helpful info graphic.
1. Train Them About Online Threats
Teach your children on the many online perils. For instance, let them know why it's risky to converse with strangers online. Educate them on the sites which contain inappropriate information and let them know why they shouldn't share personal information online. If your child doesn't require a phone, speak to them about getting rid of their gadgets. Besides, there are many places you can sell your iPhone for cash.
2. Know How to Use a Computer
While this might seem odd, it works for most parents. It's surprising how children know much about the family computer than even the parents. The first step to ensuring internet safety for kids is by becoming computer literate.
This way, you can monitor what your kid does online and block specific sites containing inappropriate information with ease. More so, you can access our child's internet history to ensure that they aren't surfing in the wrong places. You can do all this when you know how to use a computer.
3. Acquire Monitoring Software
Parents should control their children's access to the internet, and you can achieve this with the use of control software. You can even install it discreetly without their knowledge. With such software, you can track all their movements online, including messages, chats as well as websites visited.
Take Away
There are various reasons why internet safety is important. With the many risks online, parents have a right to get concerned. It's your role as a parent to ensure internet safety for kids. Therefore, teach them on the many online dangers, learn how to use electronic gadgets, and, if possible, get parental control software.
Read about some safe apps for kids.