Why Do People Post Fake News?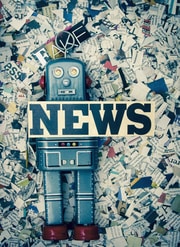 The world is buzzing with false media. Trolls are being investigated by police in the U.S., New Zealand, South Africa, Germany, Canada—in fact pretty much any country that has social media platforms. Britain has seen a wide variety of "missing kids" posts that receive lots of re-tweets and posts but turn out to be false.
The stress, panic and damage such posts cause to families and individuals can even be handled as a criminal matter. Why do people post false news?
Think about yourself. Suppose that you see two friends walking down the street. One girl–say, Linda–suddenly waves to a car that swerves over to let her in before swerving and speeding away. Later you hear that Linda didn't show up at an after-school group. Nor has she posted anything on social media for hours. You start texting with a friend and after a few minutes you start to think Linda may have been kidnapped. You upload a post describing the last time you saw Linda and for a headline you type: Was Linda Kidnapped?
The headline is so striking, everyone clicks on it to read about Linda. Everybody who knows Linda shares the story and likes your post. You've never had so many hits on your page.
Studies have shown that likes and shares are the main reasons people post false or misleading news—they enjoy seeing the numbers climb higher than they've ever had before.
Meanwhile, Linda's parents are freaking out. They try to call Linda and find her cell isn't on. Only later, after frantic calls to the police who start a search and show up at your home to interview you, does Linda call home—she'd been at a swimming hole with her cousin and for three hours and didn't have cell service.
This little story isn't that far-fetched. People of all ages—not just kids—post stories not because they are true, but because the grim details get likes and shares. Major news sources do it because when more people click on their stories they can charge more for advertising. People do it to get more attention on social media.
How does this matter to you?
Think about this: In some situations, people have been jailed for posting fake news. Some have been jailed simply for sharing fake news.  Worst of all, people have had to struggle through heart-ache and pain because someone posted fake information about their homes being burnt, about loved ones missing and killed.
More personally, if you are caught posting fake news, you will never be viewed as a real source ever again. People will read what you say and down-vote it. If you've been linked to false news, people will not believe what you post.
In these days of false news, multi-million dollar news outlets, from newspapers to globally-televised broadcast stations to top-rated website, all suffer when they report stories that fudge or play with facts. Don't let that happen to you.