Online Safety While Playing Pokémon GO?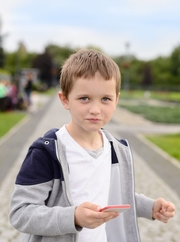 Even just a few months ago, who would have guessed we would be talking about online safety related to outdoor activity? Well, as new technologies and trends continue to emerge we should know by now not to rule anything out.
Pokémon GO is all the rage and it's brought kids, teens and adult game lovers outside to play, and exercise, all because of a simple and fun app on their smart phones. This is a good thing.
At the very least those playing the game are putting in a lot of extra steps walking while breathing in fresh air. Others are running as their virtual reality leads them into the great outdoors.
Now, here's where the discussion of gaming safety comes in. There have been reports of minor injuries due to users not paying attention to their surroundings while playing the game. It can be as simple spraining an ankle while loosing your footing off a curb, or falling and landing on your elbow.
There is a verified news story about two young men who fell off a small cliff and had to be rescued. To be clear, they climbed a fence to access an area not open to the public which led them into harms way.
Now, I will say it again! The fact that people are venturing outside and getting some exercise is a very good thing. Sitting on your couch and doing nothing over a lifetime will quite frankly – shorten your life.
Bumps and scrapes are a normal part of a healthy active lifestyle. But I would also say that when caution and care is put into the equation, there are fewer broken bones.
We've mentioned walking and running, and we can take that to the next level for hikers, but what about biking? Yes, it's something I saw last week in my own neighborhood.
A young boy was playing Pokémon GO while riding his bike. Parents are diligent in telling their teens not to text and drive, now you'll also need to warn them about the dangers of riding their bike one handed while searching for Pokémon on their phone with the other.
… and yes, NO driving while playing Pokémon GO either.
Reviews of the video game include comments that it's very easy to get lost in the game to the point where kids, teens and adults alike, pay less and less attention to the 'real' world around them.
The moral of the story? Get outdoors, YES! Have fun, YES!
Anything that encourages any member of society to 'get active' is indeed a positive thing, much like Wii Fit a few years ago. But when you go outside, don't leave common sense at the door.