10 Family-Friendly Movies with Trailers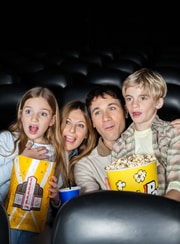 Movie night is a family tradition. Everyone sprawls around the TV with popcorn! It's fun and can be the start of heated conversations. But what can you watch? Let's look at some of the family movies that were made just for kids. Maybe one of these should be the next show for your movie night.
We are all different and like different activities. Watching movies as a family is a great way to take a break from physical activated.  Watch the trailers for each of these good movies then decide which one you want to start with.
Links to the movie trailers open in new windows so you can watch the trailers without leaving this page. Enjoy!
LEAP!
Dreams need people to make them come true. This story, set in the 1800s, shows us an orphan girl struggling to become a ballerina. Her dear friend Victor joins in her fight. There's dancing, action, adventure and people working together to make dreams come true. Watch Movie Trailer: LEAP
MY LIFE AS A ZUCCHINI
An orphaned child is befriended by a policeman who takes him to his foster home. Kids—you'll find your mind filled with new and difficult thoughts, which is why you should watch this with your parents. The stop-action animation is a refreshing change from the usual animated movies, but it hits hard at the heart.
Watch Movie Trailer: MY LIFE AS A ZUCCHINI
THE LEGO BATMAN MOVIE
What silliness! What slick moves and eye-rolling giggles. Kids of all ages will be drawn into this odd twist on superheroes. Adults will enjoy watching this unusual take on a classic action legend. Best of all, you'll get to watch Batman relax and enjoy himself for a change. Watch Movie Trailer: THE LEGO BATMAN MOVIE
KEDI
Love cats? Love exotic locations and seeing the world with fresh eyes? Enjoy documentaries? Okay, you might not think of a documentary as a good family movie, but KEDI will change your mind. Tour the city of Istanbul with some of the hundreds of thousands of cats that live there. It is thoughtful, beautiful and fun. KEDI is also a great introduction to documentaries. Be sure you get a version with subtitles.
Watch Movie Trailer: KEDI
CAPTAIN UNDERPANTS
Enter the quirky, zany world of world-class pranksters and a dimwitted hero. Readers of the infamously funny book series will be delighted. Grown-ups will be thoroughly entertained by the dialogue and action. This movie is a funfest for everyone who can handle a few—ahem—poop jokes. Watch Movie Trailer: CAPTAIN UNDERPANTS
WONDER
Movies can make you feel. WONDER is one of those movies. It shows you what life is like for a boy with facial deformities. You'll cheer the heroes, swallow lumps in your throat and see the power of kindness. This is a real-life story with stars you'll recognize. WONDER proves the power of movies. Watch Movie Trailer: WONDER
CARS 3
Sequels rarely match the quality of the original, but CARS 3 comes close. Kids will be drawn into the story of a familiar friend. They may not understand the scenes about McQueen's aging, but many adults will understand his feelings.
Watch Movie Trailer: CARS 3
FERDINAND
Children have loved the book for years and now will love the movie. The world's most famous bull fights against unfair judgement and bullying. Is "bulls" where the term for being mean comes from? Kids, you'll enjoy this inspirational movie about friendship and true strength. Watch Movie Trailer: FERDINAND
THE BREADWINNER
This is an animated story about telling stories. But be ready. THE BREADWINNER tells the tale of a girl in Afghanistan. The Taliban arrests her father and she is left to care for her family. She survives by hard work—and escaping into a fantasy world. The story is moving and difficult, but rewarding. Be ready for a deep family discussion. Watch Movie Trailer: THE BREADWINNER
WONDER WOMAN
Greek mythology talks about strong, independent warrior women. Now, a new generation watches as a real-life female soldier acts in a movie about World War 2 and facing evil. This is a gorgeous movie that may not appeal to very young children, but will have everyone else enthralled. Watch Movie Trailer: WONDER WOMAN
So when is your next movie night?
Planning family fun this summer?  Explore summer staycation ideas for kids including how to make the most of your family movie night!