5 Online Resources That Can Help Kids Grow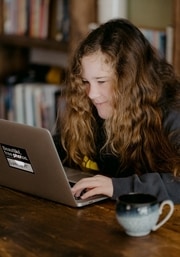 Kids have always been very receptive to new information, and it's our job as parents and guardians to help our kids grow by exposing them to quality resources of information.  Of course, it's a challenge to provide a healthy dose of online freedom to explore, with sufficient online safety measures in place.
When striking a balance between entertainment and learning, or a combination of both, there are a number resources available.  In the streaming world Netflix is great, at times. There is also the Netflix Kids option. Social media platforms are far more vast and difficult to keep track of.  You may even wonder if TikTok is safe. However, after doing extensive research, we've narrowed it down to five of the best online resources created especially to help your child grow.  You can Google these resources in the search bar at the top of our website.
Khan Academy
Khan Academy is a free online learning platform. It provides free programs for children aged four to 18, as well as tools for instructors working from home and parents who choose to educate their children during this period. They even have a timetable to keep kids on track when they're at home.
Apart from education, safety is also a top priority, especially when kids and teens have access to a wide variety of information. By following a few safety tips for students, you'll be able to help them navigate the resources better.
CK-12
CK-12 is another excellent education site, with courses ranging from math, English, and science to philosophy and astronomy, among other topics. Run by an NGO, CK-12 uses digital textbooks or "Flexbooks" to diversify K-12 education across the world. Even teachers and subject matter experts can contribute and use CK-12 resources to create holistic workbooks and models. It also includes some information for university students, but the site is primarily for individuals under the age of 18.
Kanopy
Kanopy is a service that works with libraries to provide online access to movies and TV episodes. For older kids, there are documentaries, docuseries, and film festival selections, as well as a Kanopy Kids area with animated storybooks, Sesame Street, and more. Kanopy has a monthly limit on how many videos you can watch. You'll need to sign up for their services with your library card to access their catalog.
SesameStreet.org
SesameStreet.org is a website dedicated to Sesame Street, the popular children's television show. It's ideal for little children at home. The parental controls are extensive, allowing you to lock the user onto the site to prevent your children from exploring the internet, as well as track what your child has been viewing. You may also build activity playlists and let your child loose on them.
DIY.org
DIY.org is devoted to assisting children in learning how to do something by themselves. The DIY sessions develop a holistic understanding of physical objects and improve the logical reasoning of children. The website offers a variety of lessons, including photography, painting, science, and cuisine. Adult and child sign-ins are distinct, and parents can follow their children's progress through email notifications. It offers a 14-day free trial before switching to a monthly subscription.
Due to the wide availability of information these days, it's important to guide our kids through it, point them in the right direction, and keep them safe. These five online resources should help them cultivate a learning mentality and understand the world in a better way.