7 Games that are Beneficial for Kids of All Ages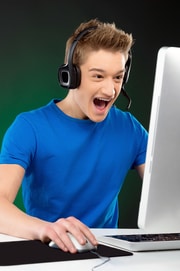 Parents of this generation have now accepted the fact that digital games are an inevitable part of their kids' lives. Be it a toddler or a kid in preteen age, children love to play games. Also, game development's evolving advancement is leaving no stone unturned to provide kids with a massive number of diverse games with every passing day.
Wordle is a recent game that has taken the internet by storm and focuses on spelling and discovering the word of the day.  This simple and brief word game is a great way to get kids started at educational games that are fun and easy.  Still, our list of the seven games that benefit children dig deeper into games that are more involved.
How Do Games Benefit Children?
When we talk about online games, we cannot deny that they play a huge role in the cognitive development of today's young generation. They are not just boredom busters. Depending upon which category they fall into, games provide an excellent source of improving creativity, hand–eye coordination, and multitasking. They also help with reading skills and boosts social development.
Games enhance children's learning by keeping them motivated and equipping them with logical thinking, problem-solving, and analytical skills. Certain games are proven to bring an improvement in memory and attention span. To sum up, online games are the perfect medium to teach kids a variety of skills just the way they like it.
With such an extensive number of games available online, it is tough for parents to pick the ones that are truly the most beneficial for children of all ages. Don't worry, as we have got you covered with a list compiled just for you. We will suggest you seven games that will develop their brains and prove to be a significant source of infotainment.
1. Prodigy
Prodigy, a mathematics game for children aged three and up, busts the notion that maths is boring and difficult. Developers who have designed the game have done a brilliant job by making the subject fun to learn for kids.
A remarkable feature of the game is that the content is tailored according to the player's strengths and weaknesses. This gives a customized learning experience and helps the child get improvement where needed.
Prodigy allows parents to create an account so that they can keep track of their child's development and reward him for the progress. The game is available to play online, on iOS, and Android.
2. Minecraft
Kids with a penchant for constructive games now have their virtual freedom to build whatever they want with the highly popular game Minecraft. The popularity of this game isn't perplexing, as the gameplay is extremely fun. It provides the children unlimited resources and challenges to fulfill their desire to explore and create whatever they wish.
You can build homes, castles, and even weapons to fend off monstrous enemies.
Minecraft helps develop strong emotional and social skills by evolving the sense of self-direction, collaboration, and withstanding pressures. Children above six years of age can easily play this game. As the game is multiplayer, parents are recommended to monitor children's online activity by watching them play to keep them safe among the online community.
3. Dungeon Sweep
Adventure games like the Dungeon Sweep by Unlimited Gamez Mo, help in improving quick problem solving and logical reasoning in children. They provide a dose of fun while the analytical skills are developing alongside.
Set up in Catacombs' gameplay, the player has to unlock special powers by finding the way through various challenges. These powers will eventually help him defeat the Master Wizard, with whom the final battle has to be fought. Dungeon Sweep is an action-packed game that will keep the kids on their toes, challenging their brains to overcome hurdles.
4. Endless Alphabet
The latest educational games are a fun online activity for kids designed to keep them entertained while imparting learning. Among a huge variety of learning games, Endless Alphabet is one such game that is suitable for children aged three and up.
With the animated monsters teaching the children how to read, speak, and write, the game is visually appealing as well as interactive. It is a great way to teach letters, words, and sentences to children in an engaging way so that they won't get bored. The good thing about Endless Alphabet is that there are no failures, high scores, or stress in it, making it a happy and calm space to learn the language.
The game is available on Android, iOS, and online.
5. Scrabble Go
Scrabble has since long been a source to strengthen vocabulary in a fun way. Now, the virtual version of this game, Scrabble Go, is available for kids to play. The classic word challenge is a highly beneficial game to play as it will help children learn new words by encouraging them to find their meaning and use. It also develops analytical thinking, which is usually improved by puzzles and crosswords.
You can download this game from the Google Play store or the Apple App Store.
6. Sight Words
Teaching kids how to read is a challenging task for teachers and parents. But not when you do it through a fun game!
Sight Words app is a very helpful app that teaches the concept of learning words by recognizing them. Reading with sight words is very easy for kids as they learn them without memorizing their phonics and spellings. It builds the foundation for reading.
Although the game is designed keeping preschoolers in mind, it can be played by children up to 12 years of age who struggle with reading. The colorful, engaging game will definitely help your child with his/her reading skills.
7. Super Quiz by National Geographic Kids
Children have a special interest in wildlife and everything about it. Their thirst for knowledge can be quenched by the interesting Super Quiz by the National Geographic Kids. The quiz will open doors of imagination and provide them with knowledge about geography, animals, and a lot more.
Kids as young as six can play this game, or you can play with younger ones by asking them the questions that come up on the quiz. It will be a fun yet knowledgeable experience for the children and help them learn about biodiversity.
Summing Up
Several studies have proven that kids who play online games are adept at critical thinking. They are better performers and more creative. An informed choice of games for children will help them develop an enhanced cognition in a fun way.
All of the games mentioned above have their upsides in terms of developing multiple skills in children. You can check the satisfying reviews of these games by parents and teachers on various platforms. This will give you an idea of how advantageous these games can be for your kids or whether they are safe enough to let them play.
Author Bio:


About Michelle Joe: Michelle Joe is a blogger by choice. She loves to discover the world around her. She likes to share her discoveries, experiences, and express herself through her blogs. You can find her on Twitter.