Bullying First Aid when you are Bullied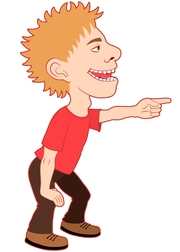 "You're stupid, fat and ugly. In hockey that's called a hat trick." And the kids around the bully giggle. For a split-second you almost laugh. The insult is kind of funny. Or, it would be if it hadn't been aimed at you. But the insult is aimed at you. And there you are, verbally slapped.
A mess of ideas run through your head. Run. Cry. Yell an insult back — but you're flustered and the words stick in your head and mouth.
You need to be prepared to handle the situation at the moment that it happens. You need bullying first aid.
The first rule of bullying first aid is this:
IF YOU ARE ALONE OR AN UNCOMFORTABLE DISTANCE FROM A PUBLIC AREA, DO NOT LASH OUT OR BE INSULTING. SAY SOMETHING SOFT, LIKE "I'M SORRY YOU FEEL THAT WAY," OR "I GUESS THAT'S YOUR OPINION." THEN LEAVE. WALK CALMLY, BUT FIRMLY. DON'T TAKE A CHANCE OF BEING INVOLVED IN A PHYSICAL ASSAULT.
That said, if you are close enough to other people or have friends around you, you have options. The best option is a strategy that is both confusing to the bully and takes away all the power of his or her insult: Be nice. Be really, really nice.
Here are some ideas of what you can say:
"That's pretty funny. Do you have any more lines?"
"You remind me of those comedy roasts. Have you thought of doing comedy?"
"I wish I could stay and hear more, but I have to go. Thanks for the laugh, though."
Being nice is a great way to show the bully that his or her words don't have the desired effect. A bully wants you to be scared, cry or show weakness. When you show the bully that the words don't work on you, he or she has lost.
But you must be careful.
If you see any sign that the bully is so frustrated with your niceness that violence could happen, go back to the first rule and softly excuse yourself.
The key to performing truly effective bullying first aid is to practice.
Enlist your best friend or even a parent or sibling to play the role of the bully. Have that person really get into the role (pretending that they are the villain in a movie). Try different responses.
And most definitely practice the number one rule: IF YOU THINK YOU COULD BE IN PHYSICAL DANGER, GIVE A SOFT RESPONSE AND LEAVE.
Additional Bullying Resources: