Facebook Privacy Settings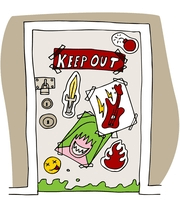 New technology is incredibly exciting and fun. It's amazing when you think that what you type on your computer in your room can be seen all around the world by anybody with a computer. But should it be seen by anyone with a computer?
Should the kid who's been insulting you at the park know that you go there every Saturday morning to play basketball?
Should the girl who calls you ugly get to see the new dress you bought?
Probably not.
That's why in this exciting time in human history, you need to think about your life as a valuable gift. You should think about that before every story you post.
One easy way to make sure your life is shared only with those who like or love you is to use your social media privacy settings.
Like most people, you probably have a Facebook page. You probably know how to post, edit posts, change your profile picture and message friends.
But do you know how to block strangers from looking you up on Facebook? If someone has started insulting you online, do you know how to block that person from posting on your page?
You can even block that person from sending you a private message or looking up your email address.
Another smart setting to protect yourself from dangers online is to only accept friend requests from friends of friends. This helps limit who sees your profile.
Of course, there is a problem with this. You should talk with your friends about their settings. Better still, sit down with your friends (in real time, in real life) and play with the security settings. Show each other how the settings work and which ones you need to use.
When all of you keep control over who can see what you post online, all of you are safer.
All major social media sites have safety and privacy settings. One fast way to learn about them is to Google the social platform's name and "how to set privacy."
Remember, talk to your friends and family about their settings. When everyone you share with has the same secure settings, all of you is safer.
For decades, kids have stuck signs on their doors that read: "Keep Out" and "Please Knock" and "Trespassers will be yelled at." Think about your social media settings as signs on your online door. Don't let just anyone walk in.