G Suite for Education | Free for Schools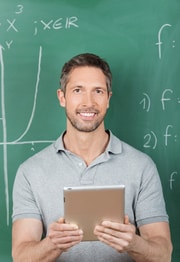 G Suite for Education is a suite of tools that schools can use for free to allow educators and students to interact simply.   Whether school is in session, being held with online classes or a little of both, these G Suite tools consist of essential web based applications.  They allow teachers to plan and implement standard based lessons, manage grades and meet the needs of diverse learners.
A more simple way to explain how G Suite for Education works is that it's a collection of apps just like you have on your phone. These apps however, are designed for use in educational environments. Some of these apps already exist for any organization needing to engage collectively online, but many with G Suite for Education have been specifically created for teachers and their classrooms. These Google tools will help you to engage students to interact with the content of any lesson presented, including back and forth communication other than just email or live online session.
Three Reasons to Use G Suite in Your Classroom
It's completely free
Easy Collaboration
Use on any device with one log in.
Never before has G Suite been more essential with many students having to attend their classes online. G Suite tools exists to help you increase opportunities in your everyday work flow for critical thinking, communication, collaboration and creativity with your students. All of this happens while supporting the standards in learning objectives that you have.
G Suite for Education Apps
You may recognize many of these Google platforms because as mentioned, many of them are not only used for education. G Suite for Education simply groups them all in one place through your Google account, in addition to adding specific apps essential for the online classroom.
Core Services of G Suite for Education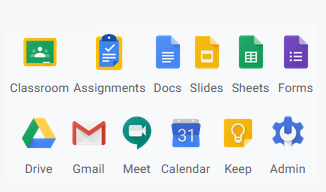 Whether conducting classes in school, online or both, here are the G Suite tools that will make it easier for your students to connect through their each individual Google accounts, just as teachers and administrators are.
Classroom: This is one of the most commonly used G Suite apps but many Google Classroom's features may not be fully utilized. Even though the classroom is online, it is very secure as only those who are invited can join through a class code emailed to each individual student. Once a classroom is created teachers can can add various classes and sections as needed. Some key features of Google Classroom are:
Track classwork and submit assignments.
Check originality, feedback, and grades. Share resources and interact in the class stream or by email.
Parents and Guardians can get a regular email summary of student's work.
Review announcements and activities.
Drive: Think of Google Drive as a flash drive that is stored on a different computer that you can access from anywhere and from any of your devices. This is the same for students. It's the easy way to share lesson files or educational videos and everyone in your class will have the latest copies. Add and remove files at will or update documents without having to forward revised materials your students. Drive brings all of the G Suite tools together for easy access on the cloud by everyone in your class.  Inside Google Drive you can create docs, work sheets, slides and forms for various purposes.
Docs: Any document your would normally create, print off and hand our to your students can be created in Google Docs. These docs will be available instantly for your entire class to see. You can restrict these documents from being edited by students, or their may be circumstances when you want to allow editing, if not students then with other teachers or administrators you share documents with. You can gain more control over PDF files using PDF editing software.
Sheets: Make your lessons come to life with colorful charts and graphs. Built-in formulas, pivot tables and conditional formatting options save time and simplify common spreadsheet tasks. Choose from a wide variety of budgets, schedules, and other pre-made spreadsheets — all designed to make your work that much better, and your life that much easier.
Slides: Google slides allow you to choose from a variety of presentation themes. There are hundreds of fonts, embedded video and animations as well. A wide array of pitches, portfolios and other pre-made presentations are also available.
Forms: Imagine the ability to create a pop quiz without having to print off copies and wait for students to attend your class? Google Forms is also a great place to get feedback from students. For example, lets say you want to create a place for students to leave questions or comments. Rather than sending out an email and getting overwhelmed with responses, you can create a form for them to list their name and comment or question. It's also a great way for all students to see what their online classmates are thinking, just as if they were in a school classroom asking a question.
Sites: One of Google's oldest platforms, Google Sites is easiest way for you to create a website for your classroom. Update it as regularly as you wish or simply use your class website to present year long resources, including links to safe websites for research. Many teachers provide a link to Safe Search Engines such as our Google safe search tools.
Assignments: This tool allows teachers to streamline the distribution of assignments to students, as well as analyze and grade all work. Google Assignments integrates into your LMS (Learning Management System after your school administrator has turned on the tool within your domain. Learn more about how it works at https://edu.google.com/intl/en_ca/assignments/
Meet: Here is where you set up your classrooms for distance learning. Just as all of Google for Education tools, it's free for schools and gives you complete control to meet security and privately. You can block students from using classic Hangouts and Google Chat on their school-managed Chromebooks. You can block all students. Or, set different rules for students in certain groups.
Chrome: There are a lot of benefits to making Google chrome your default browser. First and foremost is the idea that Chrome works best with Google.  Since you're using all of these Google tools you're less likely to encounter any snags. Using Google Chrome also allows you to keep everything the same no matter what device you are using thanks for Chrome Sync.   
Gmail: Pretty straight forward here. Your Google email is connected to your Google account and has the same log in to any G Suite tool use, all while maintaining efficient communication between administrators, teachers, and students. Gmail is not required by students to be part of an online class, but they will need a Google account and an alternate email address to get class notifications.
Calendar: The easy way to schedule online classes. Students and parents are always kept "in the loop" and everyone can get reminders about upcoming activities. You can also create multiple calendars that everyone can use together. Use of this app by all participants means students don't have to create their own calendars to keep track of their schedules.
Contacts: Busy teachers often have different groups they need to communicate with. With G Suite Contacts you can organize and merge your contacts, as well as create personal mailing lists. Quickly send messages to specific groups of people with a single click.
Keep:  The quick way to stay organized.  Create quick lists and add structured information and sub tasks.  Easily access your notes and lists on the web and your mobile devices.   G Suite administrator can control who uses Google Keep within your school. Users who have Keep turned on can use it to create, manage, and share notes within your school.

Admin: G Suite for Education within every school is controlled by an administrator. The Google Admin console is their access to manage all teachers and students using G Suite. There are plenty of free online tutorials to learn how to operate G Suite. Google also provides training for educators to become G Suite administrators to fully utilize the power of G Suite. G Suite courses are held online and are regularly scheduled to continued availability.
Integrate the collaborative power of Google into your LMS