3 Tips For Kids to Engage Safely With Fellow Gamers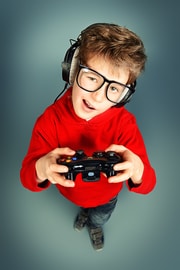 Online gaming isn't just for fun anymore. It's a means to socialize. Gaming can even have some serious benefits when it comes to a child's psyche, as gaming can encourage collaboration and team building, improve social skills through effective communication, and allow children to connect with other people that have the same hobbies.
Social benefits aside, many parents understandably are wary of letting their kids play video games and also engage in the gaming communities that supplement them — and we don't blame them. Thankfully, there are a few things we can instill in our kids to teach them how to safely engage with fellow gamers online, beginning with these three best practices.
1.  "Never share your personal information"
When it comes to online gaming, there's no such thing as being too careful. Sharing personal information can put your child at risk of hackers and other dangerous cyber activity.
That being said, be sure to warn your child about sharing personal information online, including your address, phone number, full names, and even account passwords. This way, your child will be able to have fun and connect with other gamers without putting both you and themselves at risk.
2.  "Be aware of pop-up scams"
Pop-up scams are all too common on the internet. However, with a child on a computer, it's essential to warn them about these malicious pop-ups and inform them on what to do if they encounter one.
Without properly educating your child on cyber scams, they may accidentally download malware that can harm your device. Not to mention, cybercriminals may send harmful attachments on forums that your child can gain access to.
3.  "Don't purchase cheat codes"
Sometimes, it's cool to get certain modifications and cheat codes on the internet. However, things get a lot less cool when these cheat codes (potentially) expose your device to harmful viruses.
For this reason, it's extremely important to educate your child on cheat codes and how they may harm your device. While downloading cheat codes can be tempting, your child should know the impact they may have on your devices so that they can think twice before pressing "download."
For more perspective on gaming communities and how to engage safely in them, pore over the infographic below, courtesy of Norton.
Read about online safety for kids while playing Pokemon Go.