How to Inspire Our Kids to Love Reading!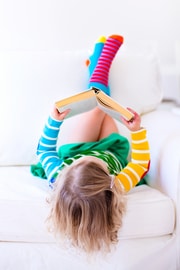 As parents, we want to do everything we can to make sure our kids have good reading skills. We entrust our children to the school system a few hours each weekday but are fully aware that what we do at home is just as important, if not even more vital to developing good reading habits. Sounds good right?
But there is one problem. I used the work 'habit' when referring to our desire to inspire kids to love reading. The problem is, a focus on developing good reading habits is the wrong goal. On it's own, it won't be enough.
Don't misunderstand. Healthy habits can make it easier for any of us to do things we may not particularly feel like doing on any given day. But to inspire a love for reading is to instill the passion needed to fuel a lifestyle that 'always includes reading'.
The infographic below gives some great tips on how to set the stage for kids of any age to begin a journey into a lifelong passion for reading. They go hand in hand with good resources that enable parents to do more than just laying a solid foundation. Setting our kids up for success is only the beginning.
Early literacy is vital to child development and lifelong learning. Yet, there is a literacy gap in our world that makes it that much more difficult for kids to get the jump start they need. In any situation, kids need all the help they can get.
We've talked about inspiring our kids to want to read. We've talked about instilling passion. One way we can help is by introducing them to books they can identify with. This can include authors that have a common upbringing or common ethnicity.
What is your child interested in? Is is fantasy, science fiction? Do they want to be a veterinarian when they grow up or a fireman? Search online with your child about topics they may be interested in. Then take them to the library regularly to exploration a world of themes, ideas and authors from all walks of life.
While early literacy is important, it's never too late to get started.
Brought to you by Head Start Reading: Reading Resources for Parents!
Another valuable learning strategy to encourage new readers is to teach your child alphabet recognition.  This can begin from very early ages to better prepare them for when it's time to begin reading. Getting to know letters will give kids a jump start even when you are reading to them from storybooks.  Children will not only follow the pictures but also begin recognizing the letters on the page as you read.
Being well read helps kids be creative writers too.  Here are some easy ways to improve your child's creative writing skills.