How to Prepare Your Kids for Kindergarten With Technology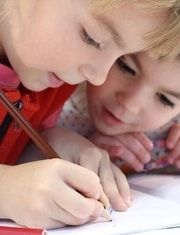 Kindergarten is a big step for kids and parents alike. It's likely the first time your child will be away from you in a school setting for most of the day. It's also the beginning of their intellectual journey.
Most states require kids to enter kindergarten by age 5 or 6, with a few exceptions. Though it might be your child's first school experience, there are ways you can prepare them for it at an earlier age by using technology.
It's understandable not to want to have a phone, tablet, or laptop in front of your young child's face 24/7. But, technology isn't all bad or damaging. When used the right way, it can make the transition to kindergarten easier for your little one. It might even make it easier on you when you know they're more prepared and ready to tackle whatever is thrown at them throughout the year.
So, how can you use technology to empower your child as a new student and make sure they are mentally, socially, and emotionally ready for this big step?
Make Sure They're Socially Ready
By the time your child is ready for kindergarten, they should already have certain social skills. Social and emotional development is extremely important for them to be successful in school – academically and for developing friendships. Some of the most crucial social skills for children that age include:
Understanding right and wrong
Using words to express needs and feelings
Sharing
Playing alone or with others without constant supervision
Making safe, independent decisions
If you're worried that your child isn't meeting these milestones and that they may not be ready, consider using technology to connect with a social worker.
Social workers can counsel children who might need assistance in their education and development. They can also work with you, as a parent, to offer technological tools for your child's social development.
While your child might be too young for things like social media and texting, you can use appropriate online games to help them with their social skills. Or, download some emotional intelligence apps for them, like Daniel Tiger's Grr-iffic Feelings or Sesame Street's Breathe, Think, Do. If you want your child to connect with other kids their age, connect with the parents of the children who will be in their class, and set up video chats so the kids can meet and talk beforehand. It's a great way to nurture friendships and improve communication skills before school starts.
Meeting Their Physical Needs
Most schools across the country require your child's vaccination records. Some of the common illnesses kids need to be protected against before heading to school include:
Rubella
Mumps
Measles
Hepatitis A
Eventually, younger children might even be required or encouraged to get the COVID-19 vaccine. Over the last year and a half, you may not have been able to see your child's pediatrician in person. Thankfully, telehealth has provided an opportunity to connect with doctors via video chat, over the phone, or through custom online portals.
Connecting with your child's pediatrician online will let you know if they're up-to-date on their immunizations, and whether they should come in for a check-up before starting kindergarten. It's a great way to keep everyone safe and socially distanced while ensuring that your child has what they need to protect themselves as they start school.
Getting Them Kindergarten-Ready
There's so much to think about and prepare for when it comes to kindergarten readiness. Some of the basic skills your child should have include:
Counting
Showing an interest in reading
Going to the bathroom by themselves
Recognizing their name in print
Being able to hop on one foot
If your child hasn't mastered all of the necessary skills for kindergarten, don't panic. Instead, consider using online activities to teach them new skills and give them confidence in the things they already know. There are plenty of kid-friendly games and resources that can spark their interest in areas that they might otherwise struggle with. You can even get some new ideas online for activities you can do with your child to boost their skills and better prepare them for school.
Of course, that doesn't mean every second should be spent online. Making sure your child stays active and spends time with books, interacts with other kids, and uses their imagination is just as important. But, those are things that are more likely to come naturally. Technology can help them (and you) with the things that might take a bit more effort.
Even before your little one sets foot inside a school, technology can be used to prepare them in a variety of ways. From keeping them safe to boosting their cognitive abilities, consider using some of these technological advances to prepare your child for kindergarten. It's one of the best ways to ensure they get the most out of their first school experience.