How to Teach Children to Use Online Finances Responsibly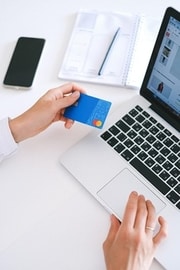 With the rise of online banking and payment services, it's important to teach your children how to use online finances responsibly. Unfortunately, more digital transactions mean greater risk for young people who are unaware of how to keep their data safe. This article shows you how you can protect your children.
The Rise of Mobile Banking and Finance
Mobile banking has risen quickly over the last decade. In 2012, only 21% of cell phone owners around the world used digital banking services.  While some people are still more hesitant to use online-only banks, that figure has grown to 89% of all Americans. The number of those who access their own bank's digital services is growing as users ditch paper statements to reduce paper waste.
Digital finance is a growing trend among young people as well. With the increased popularity of digital investment apps, online loan services, and accessible payments via social media and other services, the generation that grew up online is content keeping all their finances digital. The pandemic has also elevated their use of online financial processing.
4 Ways to Teach Your Kids To Protect Themselves
While there are plenty of opportunities for kids today to manage all their money virtually, there is also plenty of danger. Compromised or stored passwords, threats from hackers, and online companies selling data are just some of the threats they face. Here are four ways you can help your children to protect themselves.
1. Teach Your Kids About Online Security and Safety
No matter what age a person is, everyone should be aware of how vulnerable their data is when they are online. Their information can be shared, stolen, or manipulated. Even their very identity is at risk.
Teaching your children to protect their online profiles is your first priority. For example, help them to develop good password management habits, including writing strong ones and keeping them safe and secret. They can also download software that helps them keep their passwords secure.
Even with a robust password, kids need to understand that his or her data is not necessarily private. Companies store and use profiles from social media and other apps for marketing, demographic information, and more. They may also sell that data to third party firms.
It's important to know that since the pandemic, both children and predators are spending more time online. Your kids can be targeted whenever they are on social media or online gaming. Teach them to practice good internet safety habits, such as not sharing personal information with strangers and avoiding suggestive screen names.
Mastering these internet privacy skills is important as your children expand their use of online finances. Show them how to use technical tools to protect themselves, including cookies, private browsing, and antivirus software.
2. The Pitfalls of Online Shopping
Online shopping today is even simpler than placing an order at Amazon. Money can be sent in the blink of an eye, without needing excessive verification. That also means it's easy to give your money to the wrong people or to send money unintentionally.
One of the most valuable things you can teach kids about is the dangers of online shopping. Walk them through an online shopping experience: teach them how to double-check the cart, why it's unsafe to store credit card data, and what information they should never give out. For example, a legitimate online shop will not ask you for your social security number.
3. The New World of Electronic Payments: Facebook and Venmo
Be aware that your children might send money to an online vendor through Facebook, such as buying an item that a friend has made. While Facebook has its own security measures, teach them only to purchase from people they know in real life to protect their money. You should also teach techniques to secure their Facebook accounts, such as two-factor authentication.
Venmo is another popular app for online money transactions, however, you must be 18 years old to use it. Parents should know that Venmo transactions are public and, therefore, visible to everyone. If they make an accidental purchase, it can be more difficult to get their money back, so instruct your children to be highly cautious when using this app.
4. Helping Your Kids Avoid Bad Debt
Digital apps are now available that allow everyday people to invest or take out loans without a lot of experience or collateral. To protect them from unsound financial decisions, you need to teach your kids about debt. Explain concepts like the importance of credit scores, how to manage a budget, and why debt can have a good or bad impact on their financial future.
Teaching them to manage their bank accounts is important too. Paper bank registers may be a thing of the past, but online banking applications offer a variety of aides that can keep your children on top of their accounts. Tools like alerts and automatic savings deductions, along with regularly keeping track of online statements, can help your kids safely manage their money.
There are also budget management apps available. These can be useful but remember to tell your kids that the more apps they use for fiscal planning, the more they are vulnerable to theft. Limiting financial apps to a very few is a good way to keep your child's data safe.
The rise of mobile banking, online shopping, and digital family financial planning provide a lot of options for your children to manage their money. However, they also put them at great risk. Teaching them safe financial practices can help them make wise choices while keeping their data and money safe.
Equipping kids how to resist consumer debt in general goes hand in hand with raising them how to be responsible consumers through all the stages of their lives.