Do You See Images in the Clouds?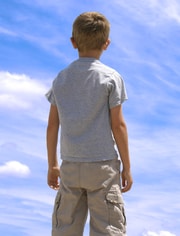 Flat on the grass, face to the sky, you've probably gazed up and picked out shapes in the clouds: dogs, trees, ice cream cones and almost anything else. Or you've looked up at the moon and seen a face.
The ability to do this isn't a sign that you're seeing things; it tells you that your brain is performing a job that is not only normal, it may have helped keep early human beings alive.
The ability for the brain to see familiar shapes in random things is called pareidolia. No, the clouds aren't really shaped like lions or two birds kissing. That's simply your brain trying to make sense of shapes that have no sense.
People who study pareidolia have different ideas on why this is an important skill for our brains to perform.
One theory goes back to when humans lived in the wild. With all the dangers that can lurk in forests and jungles, the ability to spot danger—or safety—can be the difference between life and death. A human who can more quickly spot a predator can get a heads start on running away.
Another theory is found in the eyes of babies. With all the new shapes in the world, babies are instinctively drawn to faces. They will stare at a face for longer and more intently than any other thing in their new lives.
Some researchers say that babies can recognize familiar faces just weeks after being born.
Pareidolia is part of this learning process, because the brain, experts think, looks for faces. It looks for faces in stains on a wall, in clouds, in leaves –in almost anything.
In many famous instances, people have seen the faces of familiar people in food, like the almost infamous example of the image of Mother Theresa found on a cinnamon roll. Abraham Lincoln and George Washington have both been spotted in chicken nuggets. Kate Middleton's face was seen on a jelly bean. These are all examples of pareidolia, seeing something –or someone—familiar in a totally unrelated object.
Counsellors sometimes use pareidolia to get insight into the minds of clients. This is done using a Rorschach Test.
This test uses totally random ink blotches. Psychologist believe that when clients look at the blotches, the thoughts on their mind will be revealed in what the client says they see in the blotches. If that theory is correct, then perhaps clouds are nature's Rorschach test.
Next time you are staring at wall paper or embers in a fire or clouds in the sky and suddenly see a face, remember: There is nothing wrong with you. Your brain is doing one of the many extraordinary tasks it is wired to do: use pareidolia to help make sense of the world.