Millennials: Online Learning vs. Traditional Education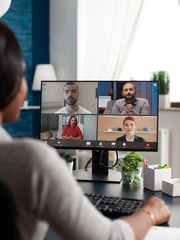 Online learning is a Digital Education. Online learning means education based on digital text, video, audio, and graphics. It is an interactive process where students interact with their teacher through the screen and share their ideas.
Students choose to study the subject of their interest anywhere in the world. Moreover, they can learn on any day since it does not depend upon time or place.
On the other hand, traditional education is a classroom-based learning methodology, where students receive the same thoughts and ideas from their teachers.
In traditional classroom learning, the teacher is the class leader, and they usually teach students the same topics at a time through a variety of methods. Different teaching methods are used to enable all students to learn at their own pace. The environment must be quiet so that no disruptions occur while learning occurs.
Benefits of Online learning
E-learning is an online education method through which the student can learn a particular course without the restriction of time and area.
Nowadays, most universities use e-learning to deliver their education in remote areas by their qualified faculties. As a result, students can easily access lecture notes, audio lectures, assignments, and tests at home. Hence, they save a lot of money while getting a quality education.
An online master's program is available on various e-learning websites, which allow people to learn new skills at their own convenience.
Benefits of traditional learning
Traditional learning has several merits, including the ability for students to maintain personal contact with their teachers and mentors, allowing them to clear doubts directly and receive adequate responses.
They can create bonds with classmates and other people. Students can expand their network and compete against one another. Take part in many activities in school, college, and university. They have hands-on experience in laboratories and fields with a variety of subjects.
Drawbacks of traditional learning
There are many limitations of the traditional education system, even within chartered school that offer specialized focus on each student.  These schools often offer the flexibility of online learning as required.  However, in most traditional public school settings all students must learn the same thing at a particular time in the same manner.
The teachers can teach only a limited number of people in a classroom. All members of society should be present if they want to get educated. If a student misses a lecture, they will forget that topic. In this way, traditional education is a strictly classroom-based learning pattern that provides learners with uniform content and discourages discussion or debate outside class time.
Is online learning better than classroom learning?
Many believe that e-learning is better than traditional teaching for several reasons. Here are some of the benefits to help you understand them better.
Accessibility & Flexibility
Online courses and learning through e-learning channels such as cyberschool can be accessed around the clock, saving you time and money. You can view them wherever you are, and once you download them, you don't even need an internet connection—so now you don't miss an important lecture or assignment due to a poor network connection.
It also gives the flexibility to finish the course at your own pace while catering to other professional and personal responsibilities. Furthermore, these recordings will remain available for viewing with lifetime access and can be easily referred to in case of any doubts so you can study at your own pace.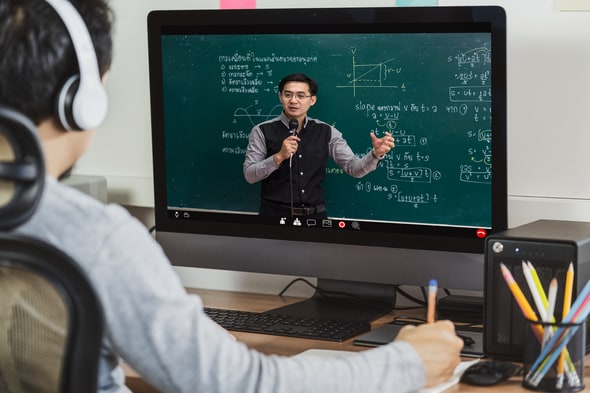 Cost effective
This is a cost-effective alternative for students who want to pursue a degree or training program but find it hard to afford the time and money required to travel to and from a physical location.
Online courses are ideal for anyone who lives far away from the place of teaching, needs flexibility in scheduling their classes, or intends to work full-time while taking classes.
It helps them save time and money on travel, food, tuition, and accommodation. In addition, online courses, on average, cost less than 40% compared to an on-campus program because of the factors mentioned above.
Time-saving and no need to take a break
There is a lot to consider for a millennial researching colleges and universities.  One often overlooked element is the time it will take to complete their education.  Time will also increase the cost.
Within online learning there is no need to take a sabbatical while pursuing online courses. You can quickly earn a degree and have time for other interests simultaneously. Online study is best for professionals like you who have a busy schedule but still want to pursue professional studies in their respective fields they can simultaneously pursue extracurricular interests related to your career or personal life.
Credible and well recognized
The curriculum of an online program is designed while keeping in mind the industry's demand, making them credible in the corporate sector. Also, they are well recognized by the educational institutes and are well accepted. This, coupled with their affordability, convenience, flexibility, and online training courses, has made them quite popular among employers and learners worldwide.
Quality content is also a vital aspect of every online training course, which helps them seek jobs from reputed institutions like Infosys, Accenture, Wipro, etc.
Global exposure and networking
Online courses have been a boon to the education sector, especially for students and professionals looking to expand their horizons. Owing to the accessibility factor, online courses manage to break the constraints of geographical distance, enabling students worldwide to connect online, resulting in building a strong community of learners that is ready to help each other by clearing doubts via brainstorming sessions apart from creating a robust networking platform.
Students from all parts of the world could share views and collaborate with each other while gaining knowledge, experience, and training in all fields of education through online courses.
The online course offers a wide array of benefits that helps students learn in an interactive way that is inexpensive and flexible for students who are looking for an international experience.
World-class faculty
Online programs allow you to learn from world-class faculty. The online learning process is designed to make it easy for you to learn at your own pace and schedule. Breaking all the barriers of boundaries, a learner from a rural, semi-rural, or urban has the opportunity to learn from a world-class faculty at Harvard, Oxford, Wharton, or any other premier institute without relocating from their native place. This has opened ample growth opportunities for learners globally.
Ultimately, when parents talk with their kids about going to college or university, a conversation about the pros and cons of online learning versus traditional learning should always include the individual strength, weakness and desires of each individual student.