Search for People in the United States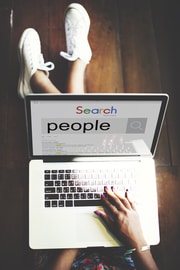 There are a number of reasons you may want to search to find someone online and you will need a specialized people search engine. Google isn't designed to search public records to do a  background check on a person or help you reconnect with a friend from high school. This is where People Search USA comes in handy.
Let's review the multiple situations that a person may want to search for someone. Some searches are to protect our kids, such as learning more about an individual who spends time around your children or you wonder about a suspect neighbor and would like to do a criminal record check.  Less concerning are those searches for people that are not regarding a safety issue.  You may simply be looking to locate a distant relative.
The People Search Engine
Google is great for research but not for searching Facebook profiles or looking for details of people online because public records are readily accessible.  However, there is a way to access these records by searching names, along with any other information you may have about them.  A search can also include addresses, phone numbers and email address.
People search results can reveal details gathered from millions of public records cross all states, including arrest records, court records, LDS geology, contact records and vital records.
Types of Search (USA)
People Search | Background Check | Search Public Records
Online Phone Book | Find Out Who Called
Searches will scan social media data as well for details that are publicly available and legal to access.  Regular search engines can't gather these details and even more importantly, the information won't be organized or cross checked with other data found from many other public sources.
The people search engine TruthFinder scans hundreds of millions of available public records in the United States, social network data, and deep web information to provide you with a detailed report about the person you want to find or check up on.
What is The Deep Web?
The Deep Web should not be confused with The Dark Web.  The latter is a dangerous and scary place as shown in this article here.  The Deep Web is safe and provides valueable information for research.  It includes private websites that you'll need permission from and login credentials to access, as well as acedemic databases.
The Deep Web should not be confused with the Dark Web.  The latter is a dangerous and scary place as shown in this article here.  The Deep Web is safe and provides valuable high quality and verifiable information for research on many subjects.  It includes private websites that you'll need permission from and login credentials to access, websites that require payment, as well as academic databases.  Schools, colleges and universities provide free access to the Deep Web at no cost.  This video explains it all in more detail.
Background Checks
One of the more popular people search tools is for a background check.  Individuals can learn more about co-workers and acquaintances and whether or not they have secret social media profiles. Search results include birth and death records, associates of a person, details of where they have lived and verified contact information.  There may be information about education history, employment records, property records, divorce records and civil judgements.  A search may also give details about business ownership and finances, including bankruptcies and tax liens.
Criminal Records Checks
Background checks include searching for a criminal past and sex offender status.   There may be a history of abuse, violence, or traffic records exposing tickets or even a DUI charge.  These details are important if you there is someone new in the life of your family that spends time around your children unsupervised.  There is plenty of attention given to protecting your children against online predators, but a criminal records check will also give parents peace of mind about family acquaintances in our local surroundings.
How People Search Protects Kids
No one likes a nosy neighbor, but you can still be a good neighbor to someone and be concerned about your kids' well being in the neighborhood. There are other issues too.  Do your kids spend time across the street at a friends house? Do they ever go on a sleep over?
We all have life long friends and family members that we trust our kids with.  However, what about those people in your life that you understand to be upstanding citizens that you don't know much about.  There are parents you just met on your child's sports team. Others include relatively new acquaintances you met through your local school.
Your children may be car pooling with their friends to sports events.  They may be going to a friends house after school or overnight at a sleep over.  We want to believe the best about people. Still, sometimes you are not sure.  It's difficult to monitor your child's online presence, much less where they are when they are not with you at home. Therefore, doing a background check up on any adult that your child spends time with may be the only way to know for sure if you child is not going into a questionable situation.
Finding Family and Friends
Thanks to technology there have been a lot genealogy websites popping up where you can trace your entire family history using your DNA.  However, you may be only looking for a specific person you already know in your past. If this is the case, you probably don't want to start the process of finding all your ancestors.
Remember that friend you had in high school?  Where does he, she or they live now?  When you don't keep up on relatives and years later you want to reconnect, how do you track them down?   Or you call someone in your contacts and the number is no longer in service. They must have moved.
The TruthFinder people search engine not only helps you track people down using county, state and federal records.  It can also access LDS geology records.
Look up someone you know to find:
Birth and death records
Possible relatives and relationships
Contact information
Social media profiles
Deep web details.
Controlling Your Personal Information Online

If someone where to look you up online, what public information would they find about you?  It's been said, if you don't have something to hide, why worry?  However, there are privacy issues as well to be concerned about.  As well, you'd be surprised how many people find information about themselves that is not inaccurate.
A public record check of yourself can determine if there is any information about you or someone in your family that needs to be corrected.
Phone Number Look Up to See Who Called You
It finally happened.  Telemarketers have finally figured out that people are cancelling their land lines, or at the very least they are no longer answer them.  Now it's common to receive multiple calls at day from multiple sources on our cell phones.  Many of these include spoof calls. A spoof call is when a caller masks their call with someone else's number. Often, these calls are local numbers that look a lot like yours.  There is nothing you can do it about it.  Blocking the call is pointless because the next call like this will be from a different number.
Legitimate telemarketers have permissions to call prospects.  They don't spoof and usually you can find out who they are.  If you get on the line with a telemarketer you simply need to ask them to remove your from their list.  Legally they have to do it.
Unfortunately, the majority of calls you are getting are not legitimate.  You've probably noticed that when you answer, there is no one there. This could be a robocall and very often the purpose of the call is to verify there is a live person who answer.  Your phone number is then verified and can be sold to other scammers.
So, when you eliminate those who are spoofing numbers, there are still many other calls you may want to do a reverse number look up.  There may be real people, whether honorable or shady,  who are consistently calling you from the same number.  It may still be a scammer of some type.  It may be also telemarketers.  The call may be from a collection agency or someone who is harassing you for another purpose.  TruthFinder's reverse phone look up may be the solution to see who it is.
There is also an online phone book you can search, including cell phone numbers. (Traditional phone book only access land lines)
People Search ReCap
Public Records | Criminal Background Checks | Addresses and Phone Numbers
Whomever you may be looking for, both online and offline, for safety concerns, curiosity or to connect with old friends or relocated family members, there is a search tool to help.