Top Vacations School-Aged Kids Will Love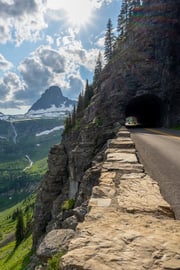 Remember when you were a kid and the only thing you lived for was summer vacation? You and your family would pack up and head off to the beach, mountains, or anywhere that suited your fancy. You cherished the memories and vowed to do the same for your family. When you kids are small, but not so little that they can't remember the time you spend together.
So, if you're still trying to decide on where to take your kids this summer, here are some of the best vacations destinations you should consider visiting this summer.
Planning Your Trip
Before we let you in on the top vacation spots, let's talk about planning your trip. Aside from deciding on a destination, you need to create a checklist of everything you want, need and even the things you're willing to forego. After all, vacation costs can add up quickly, so you want to make sure that both you and your family can make the most out of your time together. You also need to think how much you want to spend and whether or not your dream vacation fits into your budget. If you have a vacation fund, then make sure that you have enough to cover all of the expenses, including potential emergency trips to the ER. As a parent, you already know how fast accidents can happen.
If you're short funds but still want to get away, you have a couple of options. You can either choose a less expensive location, or you could consider getting a personal loan. Personal loans can be tailored to meet your specific needs, which means you aren't obligated to borrow than you can easily pay back. You should also check out your credit report prior to applying. It's not uncommon to find mistakes, which if severe, might disqualify you from being approved. Check out your report and if you find any errors, make sure they're corrected before you apply.
Another cost factor is how close you are to your destination.  If you live in the United States, here are a few options in various locations.
Miami Beach, Florida
What's not to love about the sun and the sea? If your family loves to spend time at the beach, Miami Beach is the place to go. With beautiful blue water, white sand beaches, and plenty of kid-friendly hotels, the hardest decision will be deciding when to head back home.
Jackson Hole, Wyoming
If rural settings and small towns are more your cup of tea, you might want to check out Jackson Hole. This serene vacation spot has something for every kind of nature lover in your family. You can go white water rafting on Snake River or tubing Snow King Resort. If your children are into castles, you can head to Teton Village. There are also plenty of budget-friendly hotels in the area as well.
Islands of Hawaii
If you want to visit the tropics but want to remain in the US, Hawaii should be on your radar. All of the islands are family-friendly, and offer a wide variety of activities to keep you busy. On Kauai, you can hike until your heart's content, or simply take in the beauty of Waimea Canyon. If you're more into lively beach vibes, Honolulu is the place to go. White sand beaches and the smell of coconut oil create the perfect backdrop for any family getaway. You can even attend a luau or learn how to do the hula with the locals.
Disney World
If you've been wondering whether Disney World is really worth the hype, then you'll be happy to hear that yes, it is. If you want to instill a love of travel in your kids, this long-term family favorite has something for everyone. You can visit Magic Kingdom, Epcot, Animal Kingdom, or Disney Springs. You can opt to stay on site at Disney Villas, or you can stay in one of the numerous hotels of all price points.
Dinosaur Valley, Texas
Located 75 miles southwest of Dallas, your little ones can see some of the best-preserved dinosaur tracks in history. In addition to scouting for tracks, you can also hike along the Paluxy River, go mountain biking or take a ride in a covered wagon. There are also plenty of museums to visit in nearby Glen Rose, which happens to be the dinosaur capital of the world. When it comes to accommodations, you can pitch a tent, rent an RV or stay in one of the many budget-friendly hotels.
Black Hills, South Dakota
From taking a walk back in history to the wild west in the town of Deadwood, to the epic view of past presidents on Mount Rushmore, the Black Hills and Badlands of South Dakota will not disappoint.  There are plenty of places to camp, fish, and hike in the Black Hills National Forest. Drive through a pasture of roaming buffalo, witness archaeology digs for dinosaurs,  or take a ride on a steam engine.  There are endless activities and events that a family of all ages will never forget.
Great Smoky Mountains National Park, Tennessee
Great Smoky Mountains National Park provides a home for Gatlinburg, which in itself is a historic destination in the heart of the park.  It is a small town that offers visitors a chance to see the natural beauty of the area. There are several trails that lead to different parts of the park. Some of them are easy while others require hiking skills. Hiking is not just about seeing the scenery, but also about getting closer to nature. This trip provides a glimpse of what life was like before the arrival of man.
Grand Canyon National Park, Arizona
In a word.  It's big!  The Grand Canyon is truly one of the natural wonders of America.  It spans across 277 miles in northwestern Arizona.  You simply have to see it, to believe it.  And that what makes this vacation destination memorable with it's epic depth and towering peaks and gorges and ravines throughout.  Stay overnight in one of the nearby towns to explore all the Grand Canyon has to offer or make a day trip from Las Vegas.  Either way, it's truly one of the wonders of America.
Glacier National Park, Montana
If you choose to make Glacier National Park your destination make sure you take the slow way there.  Going-to-the-Sun Road is perhaps the most awe inspiring mountain road there is.  Large trucks and camper trailers are no long allowed which makes it a pleasure for in cars to meander through the mountain road.   Plenty of roadside turn outs make is easy to stop and look over the edge. Make sure to check for seasonal road closures so you don't have to turn around and take another road into the part.  The park feature melting glaciers, beautiful alpine meadows, valleys, and crystal clear lake.
Mammoth Cave National Park, Kentucky
Mammoth Cave in west-central Kentucky is an adventure for explorers at heart, with caves to the east and west that are connected.  It's been called the largest mapped cave system in the world. The caves possess striking stalactite and stalagmite rock formations.  Many unique animals make this area their home in the dark caves, from crickets, eyeless fish, and eyeless crayfish.  Lighted tours reveal all the wonders of the caves that were first seen by native humans with fire and later by the first explorers with lanterns.
Read how to help kids keep up with schoolwork while on extended vacations.