5 Trick-or-Treating Safety Rules To Teach Your Kids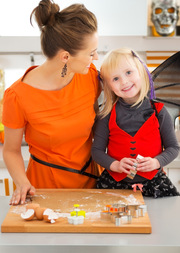 Halloween can be fun for children, especially when they go trick-or-treating. But this activity can expose them to potential dangers, especially if they don't know what they should and shouldn't do when they are out there. You can keep them safe with these five trick-or-treating safety rules to teach your kids.
Wear or Carry Reflective Items
When your kids go out in search of candy on Halloween night, it can get dark fast. Nighttime can make it harder for drivers to see trick-or-treaters, which can result in a dangerous accident occurring.
However, your kids can avoid these accidents if you teach them to wear or carry reflective items while out and about. This can be something as simple as bringing a flashlight with them or putting reflective tape on their outfits or candy bags. That will allow drivers to see them better and drive more safely.
Cross the Road Safely
Some kids may feel tempted to jaywalk so that they can hurry to a house across the road and get more candy. Unfortunately, this can be risky and put them in harm's way. You can prevent this from happening by taking your time to show your kids how important it is to cross the road safely.
Make sure they know that they should go to the crosswalk and look both ways before they go to the other side. This caution will help them stay safer. You should even consider teaching your children other essential road rules before Halloween night.
Travel in Groups
Going trick-or-treating with many people is another good safety rule to teach your kid. Even if your child is old enough to go trick-or-treating without parental supervision, ensure they do it with their friends. Tell them to stay with their buddies, avoid lagging behind, and stay away from strangers.
Maintain Clear Vision
When going over fun Halloween costume ideas with your kids, make sure they pick one that keeps them safe. For example, if your child plans to wear a mask while trick-or-treating, ensure that they can see out of it before they go trick-or-treating. Otherwise, your kid may trip and hurt themselves due to impaired vision.
If they wear face paint instead of a mask, they can avoid having their vision impaired altogether. Now, you won't have to worry about them having an accident.
Check the Candy
When your child comes back from trick-or-treating, they may want to immediately dig into their haul. Remind them that they should carefully examine their snacks first before they indulge.
This caution will prevent them from consuming anything that experienced any tampering before it reached their candy bags. Throwing away homemade snacks is also a good idea since it will eliminate the risk of them eating something that may make them ill.
When your child knows these rules, they will have a much safer Halloween adventure. Plus, you will have peace of mind while they stay careful and have a good time.