When Friends are Upset on Social Media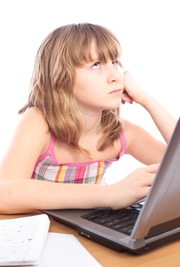 Jill knows that Ringo — her fluffy spotted puppy — can understand her. Whenever she's on her phone, Ringo sits politely at her feet and stares at her with round, brown eyes. Today, Jill read her social media posts to him. "Look," she said, "Zazza is mad at Sam because he got into the school band and she didn't".
Jill continued. "Zazza said Sam got in because he gave the teacher a flower before auditions. They're both my friends and I don't know what to say."
Ringo cocked his head and sniffed at the phone.
Jill sighed. "I know what you mean, Ringo. They're both my friends. If I post something that makes Zazza feel good, it will make Sam mad. If I post something that makes Sam happy, Zazza will be upset. What should I do?"
Ringo flattened on the floor and covered his ears with his fuzzy white paws.
Jill crossed her arms.  "You really think I should just stay out of it?"
Ringo sat up and panted.
"You're right. Zazza is hurt right now, but she does so much, she'll forget about it in a few days. Maybe I should wait 'til I see her in person and tell her I'm sorry she didn't get on the band."
Ringo's tail started sweeping the floor.
"You like that idea? That way, Zazza will l know I care and I won't make Sam mad. After all, he's my friend, too."
Ringo let his long tongue flop out of the side of his mouth. Then he gave a deep, strong, "Woof."
Jill nodded. "You're smart. If I post something online, it will look like I'm taking sides between two people I like. If I talk to them in person, I'll be a real friend instead of just someone who on comments online."
Ringo panted happily. He liked people when they talked to each other in person. Being a dog, he knew that real friends share real time in the real world.
Online friends can't throw sticks for you. They can't sneak you a pizza crust when parents aren't looking. Online friends can't scratch your ears or take you for a walk. They can't hug you or fill your water bowl. That's why Ringo knows that what happens online is only part of being a friend. Being a real friend means being supportive in the real world and being kind in the real world.
Jill got off social media and phoned Sam. She congratulated him for getting on the band. Then she called Zazza and invited her over for pizza night.
That's when Jill's phone beeped. She looked at the message. "This is your Mom. Didn't you forget something else in the real world?"
Jill smiled and tossed down her phone. "Hey, Mom," she yelled into the kitchen. "Is it okay if Zazza comes over for pizza?"