7 Summer Staycation Ideas For Kids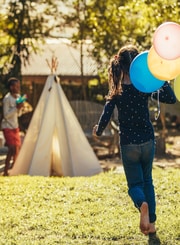 A staycation can be as entertaining for kids as going out of town for a holiday, and it just takes a bit of creativity. Kids can easily be amused and have the gifted ability to enjoy almost anything that comes their way. And the good thing is there are different ways you can make their staycation memorable without breaking the bank.
Definition: a staycation is a vacation doing enjoyable activities at home or near by.
To help you get started, here are some summer staycation ideas for kids:
1. Garden Pool Party
A garden pool can be any pool that you make in your backyard. And you don't necessarily have to have a big one for the kids to enjoy the swimming experience. You can purchase a mobile or inflatable kiddie pool and fill it up with water. The kids will surely enjoy splashing in the pool regardless of the size.
Alternatively, there are many ways the kids can enjoy the backyard beside the garden pool. You can read more about how you can turn your backyard into one of their favorite staycation spaces.
2. Outdoor Picnic
One of the activities most, if not all, kids love is eating. You can create food baskets, fill them with the kids' favorite snacks, and host an outdoor picnic.  You could go to a local park or entertain guests with a simple set up of lawn chairs and a serving table.  Consider building a backyard kitchen with a built-in grill using RTA Outdoor Living's guide on how to choose the perfect grill for your outdoor space.
Aside from the delicious treats, you can also be more creative by organizing different outdoor games.  You can also make it theme based featuring your kids' favorite music group or cartoon character.  It doesn't take much to organize a family picnic and build outdoor memories on a regular basis.
3. Camping
Camping can either be in the backyard or indoors, depending on the weather and whether you have sufficient backyard space. You can pitch a tent and place fairy lights across the yard if you have backyard space for an exciting nighttime experience. You can also create an outdoor fire and roast marshmallows while sharing stories and listening to music.
You can also camp indoors if you have space to pitch mini tents. You can also make a tent using mattresses and sheets. Adding fairy lights can also work, making the indoor camping experience different from switching on the regular lights.
If the kids are involved in the whole process of recreating a camping experience, they may enjoy it more as they are proud of having taken part in the setting up. Together you can also create a camping theme, and each person will have to dress accordingly or get into the allocated characters.
4. Create A Snack Bar
There are some days when you won't be able to organize an action-packed day during the staycation for different reasons. And in some cases, you may also find that the kids might not always be in the mood to be active either and may just wish to surf the internet instead.
In such cases, why not create a snack bar where the kids pick out different foods throughout the day while they enjoy lounging around? Try to include healthy foods and research ways to make the foods appealing enough for them to eat instead of serving chips and chocolates regularly.
5. Movie Night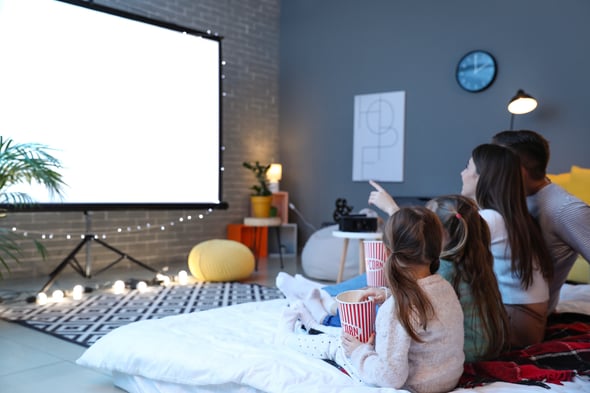 Who can say no to a classic movie night? The kids can take turns picking out a movie to watch on a particular night during the staycation. And to make it more fun, you can redecorate and reorganize your living room space to look like an actual cinema. You can even appoint the kids to design movie theatre signs using their arts and crafts skills.
In addition, the kids can also take part in preparing the snacks for the movie. You can also arrange for the kids to invite their friends for the movie night and organize with their parents. Doing so allows them to create memories with their friends and enhance their socialization skills.
6. Bike Riding
Suppose you have bicycles at home. In such a case, organizing a bike ride around the neighborhood can be another activity to explore. This could also be an opportunity to teach the kids who don't know how to cycle yet.
By cycling around your neighborhood, the kids may discover areas they may not be aware of, which aren't so apparent when riding in a car. This can also encourage their adventurous side. Moreover, it's also a good activity that could boost their physical fitness and well-being.
7. A Drive Around Town
You can also drive with the kids around town, particularly to places they may have otherwise not frequented, perhaps the park or a local diner. By visiting new spaces, they get to learn about other people and the ways of life outside their comfort zone, and what's familiar to them.
Wrapping Up
A staycation can be as memorable as a holiday getaway, especially if you involve the kids in planning and setting up the activities. And hopefully, with this list of some of the best activities you can do, you and your kids can have a wonderful staycation to remember in years to come.